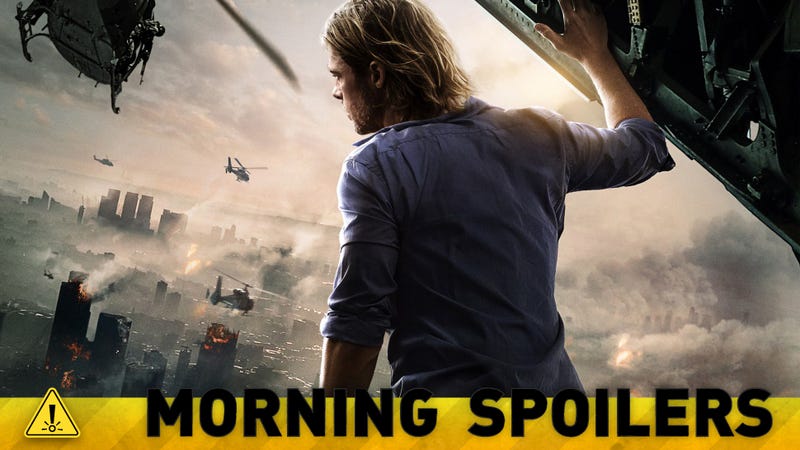 Plus Dominic Cooper is weirdly confused about the role Howard Stark plays in The Winter Soldier. There's a Pacific Rim featurette, an R.I.P.D. trailer, and a World War Z clip. David Goyer explains how Man of Steel could pave the way for Justice League. Harry Potter's Emma Watson may have found a new fantasy franchise. Spoilers!
Top image from World War Z.
Justice League
Man of Steel screenwriter David S. Goyer confirms that the new Superman movie provides the narrative basis for the introduction of more superheroes:
It is our intention that, in success, this would be the zero issue and from this point onward, possible films could expand into a shared universe. In our world, the Man of Steel world, Zack has gone on record saying that we're implying there are other superheroes in this world. But I don't know that they've come forward yet. The idea is that Superman is the first one. There might be people helping people, but not in costumes, and that Superman comes forward and announces himself to the world. In him announcing himself, he's the one that changes things.
---
Captain America: The Winter Soldier
Dominic Cooper remains pretty sure that he has filmed a return appearance as Howard Stark, but he's rather charmingly befuddled about what his role in the sequel actually is:
"Well, I kind of am, I never know what to say about this. But I have definitely put the costume on. I have worn the costume and we have shot something, but how it's going to enter into the next phase of what they are planning I don't know. I sound so dodgy, I don't even believe myself! I have shot some scenes. I went off and shot something, but I can't even work out how my character can be in it; wouldn't I be dead? But anything is possible. They are quite secretive about where they are going to go with the characters and how it will slot in, you have no idea. So you turn up, put your costume on and do as you are told."
Presumably, Howard Stark could quite easily appear in a World War II flashback, though Cooper's complete uncertainty — assuming this isn't just Cooper messing with everyone — might indicate he appears in a present-day sequence, perhaps as a hologram or a dream or a robot or something. That would be confusing enough to explain Cooper's quotes, but again, that's total speculation. [XPose]
Here's a bunch more Cleveland set videos featuring Chris Evans and Scarlett Johansson. You can also check out a set report right here. [Comic Book Movie]
And here are some set photos of what appears to be a major action scene. [via Cleveland.com]