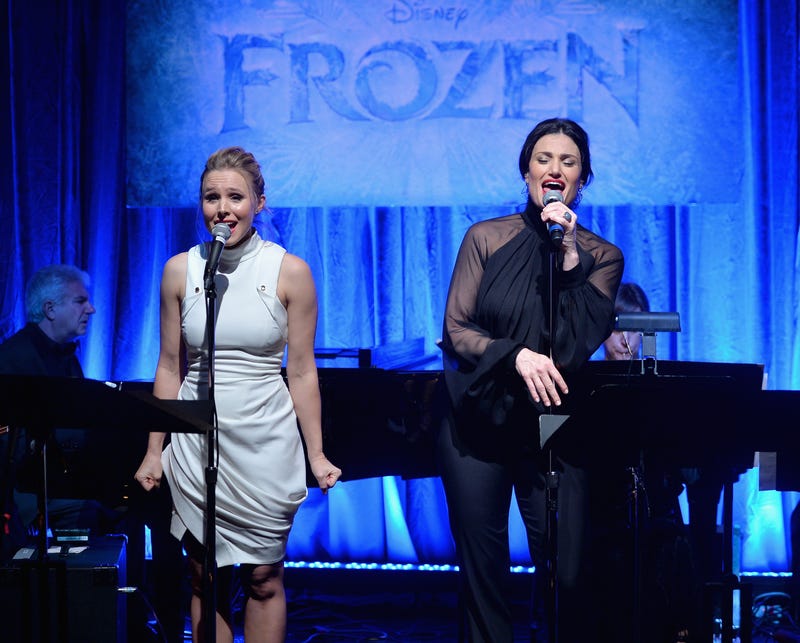 Idina Menzel, Kristen Bell and the rest of the Frozen cast took the stage for a private concert. And that means Disney is finally accepting that sometimes it's better to let the Broadway singers take central stage — instead of hiding them in the shadows and foregrounding terrible pop-recreations of their movie hits.
Bell (voice of Anna), Menzel (voice of Elsa), Josh Gad (voice of Olaf) and Santino Fontana (voice of Hans) took to the stage in California to celebrate the massive success of the Frozen soundtrack. Naturally, we all freaked out, because Idina Menzel. But there's also the fact that witnessing Disney highlight the movie's original voice talent in such a public manner gives us hope for the future of Disney musicals. Perhaps now Disney's original voice talent will no longer have to see their work get eclipsed by over-stylized pop singers.
Before the opening of Frozen, Disney hawked the considerably less epic Demi Lovato version of "Let it Go." It was not great (but then again, going up against a Menzel original is a losing battle). And then FINALLY, Disney realized one of these things is not like the other, and released the original Idina Menzel version. And whammo — the tune was a hit. A huge hit. Cue the snowflake parades and amazing live Frozen shows. Disney is falling all over itself to praise its singing cast, and for the first time in forever, we finally feel like Disney gets it. By bringing out the original voice talent and letting them do what they do best, Disney is showcasing the sorcerers behind the highly guarded Disney magic.