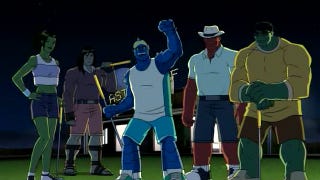 This week in the world of cartoons, Leela grows some tentacles on Futurama, we are treated to a very interesting new Hulk series on DisneyXD, and an hour-long TMNT season finale!
Ultimate Spider-Man is off for a little while to make way for the new Hulk series. As always - minor spoilers ahead!
---
Hulk and the Agents of S.M.A.S.H. – "Doorway to Destruction: Part 1 & 2"
The newest offering from Marvel casts a "family" of Hulks together in a team-based take on a reality show.
The first two episodes of the series air this Sunday, with Rick Jones joining Hulk, Hulk's extraterrestrial son Skaar, and Red Hulk to fend off Annihilus.
---
Beware the Batman – "Broken"
Who could be behind a series of life-size army men using real weapons to attack the good people of Gotham? A member of the Gotham mafia by the name of Humpty Dumpty.
---
Futurama – "Leela and the Genestalk"
Genetic anomalies abound this week, as the onset of "squidification" sends Leela on a journey to an underground genetic engineering lab.
Check out the above clip for a dig at Adventure Time. For more on this week's episode of Futurama, check out Esther's recap.