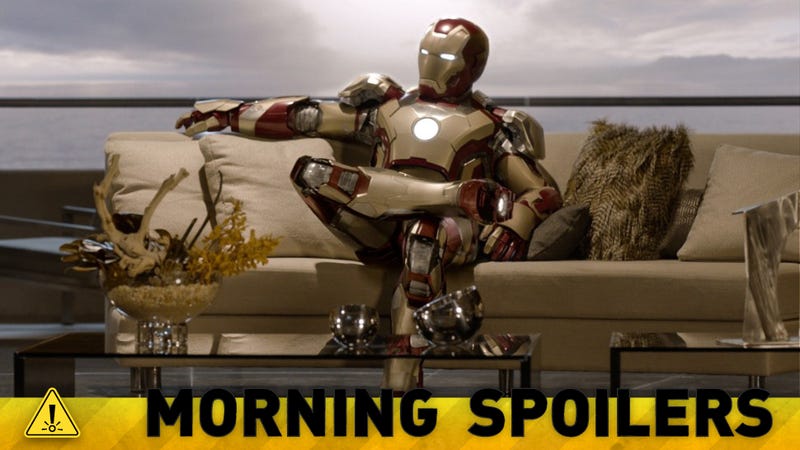 Zack Snyder talks Man of Steel, while Joss Whedon previews S.H.I.E.L.D. Hayley Atwell says Peggy Carter has plenty to do in Captain America 2. Shane Black answers fans' questions about Iron Man 3. There are new details about Neil Gaiman's new Doctor Who episode. Plus spoilers for R.I.P.D., Transformers 4 and True Blood!
Top image from Iron Man 3.
Star Trek Into Darkness
Here's a behind-the-scenes featurette focused on Captain Kirk. [Coming Soon]
---
Iron Man 3
Writer-director Shane Black discusses the differences between the American and Chinese cuts of the film:
"The Chinese version will be an interesting surprise; we do know there is additional footage that will be available in that version which I'm sure will filter back here. I was busy doing the American version while we were simultaneously obtaining footage for the Chinese version, so I got a sense of what was going on and got a chance to look at and approve later the footage. Now we've got these two versions, I'm just thrilled we had the opportunity to work with what is one of the single fastest emerging box office environments in the whole world, which is China."
And here's an interview with Shane Black.
---
Captain America: The Winter Soldier
The scale of Hayley Atwell's return appearance as Peggy Carter continues to expand from not happening to a single flashback scene to... well, to something that apparently involves at least three fight sequences:
"I've been working with some stunt coordinators – I get three separate fight scenes,' she says. 'The training has been really tough because not only are you learning the moves, you're also learning the power of the punch so it doesn't look like you have spaghetti arms. On my first day, they said: 'It's going really well but you don't have to add your own sound effects…'"
[Metro]
---
Man of Steel
Director Zack Snyder discusses the tremendous responsibility of bringing Superman back to the screen:
"In the comic-book universe, you have all these sort of minor celebrities that have been put up as the end-all, be-all. And then you have the fallen king who's sadly relegated to the shadows. It's cool to resurrect him and say, 'Understand that this is the granddaddy of all superheroes.'... It's the most realistic movie I've made. There's no tongue in anyone's cheek. I'm not apologizing for Superman in any way. I'm saying, 'Superman is a thing that must be taken seriously and embraced and understood.'"
He also explains how the film approaches Superman's timeless heroism in a contemporary setting:
"We tried not to make him so predictably morally black and white. We gave him some shades of gray. His inherent goodness is still there, and if you really think about it, you still want him to be right and to make the right choices and to do the right thing. I think that we all hope for that in ourselves, and I think that's what always has made him a very interesting character. He's a Christlike figure. There's no two ways about it."
There's more at the link, including thoughts from star Henry Cavill and the film's producers. [Hero Complex]
Antje Traue discusses her character, the Kryptonian Faora:
"I am the right hand of Zod. I'm all the time with him and I'm taking care of him. I can jump amazingly high, amazingly fast. I am surprised how strong I am on Earth. Superman is surprised, too. She just protects her people, whatever the cost. She's bred as a warrior."
[Empire Magazine via Comic Book Movie]
---
Transformers 4
New franchise star Jack Reynor discusses what to expect from Michael Bay's latest:
"All I knew was basically, Michael was going to make Transformers 4 and we were going to chat about me being in it. We didn't chat about making a fourth or any of the motives behind it. But personally, I think there's a lot more to be done with it. There's a whole new direction to take it in, and a lot more to explore in that universe, and I think we're going to make a definitive step away from the previous movies, and this is going to be a lot of fun and I'm incredibly excited."
He also rather candidly talks about what specifically has him excited for this film:
"With Transformers, I'm going to get to drive fast cars and have a lot of fun. That's what appeals to me about it. I want to have as much fun as possible... With Michael [Bay], we're talking blowing [shit] up."
---
World War Z
Here's a behind-the-scenes video.
---
R.I.P.D.
Producer Neil Moritz discusses why it was so important to hit the right tone with this ghost cop movie starring Ryan Reynolds and Jeff Bridges:
I think that was the hardest part of the movie was, "what is the exact tone of this movie?" We've talked a lot about movies like Lethal Weapon meets Men In Black or a little bit of Beetlejuice thrown in there, a little bit of Ghostbusters. But really the core of the movie is the relationship between Jeff and Ryan. For me, buddy cop comedies are really almost my favorite genre and this is really aimed at that. How do we make the relationship of the buddy cop movie fresh? And I think the two of those guys are terrific in it and their relationship just sparkles – by far the best part of the movie, the part that I really look forward to watching every time I watch the movie.

I'm sure you've done some test screenings or friends and family screenings. What have you learned through that process that possibly has helped you to make the film better?
The fine line of the tone of the movie. We knew going in that, that was going to be the toughest part and it is the toughest part. There was a balance of humor, comedy, action, that we really had to finely distill – every time we added a little bit more of something or had to take a little bit back. We didn't want the movie to be broad, we wanted it to feel real but it's got a supernatural concept, so it was just trying to mix all that and dial that together. That was, by far, the toughest part of this movie. Making the movie wasn't tough – trying to get the movie made was extremely tough – but once the studio said, "okay let's go for it," making it wasn't that hard. We had so many different choices of what the movie ultimately could be in post, and it was just dialing it together for that right combination, that right tone.
There's more at the link. [Collider]
---
Battle: Los Angeles 2
I know this may be difficult to believe, but Battle: Los Angeles was a science fiction film that came out in 2011, and producer Neil Moritz says there are still plans for a sequel:
"We have a new script being developed for Battle: L.A. 2 right now. It will be [in another city]. Christopher Bertollini, who wrote the first one, is writing the second one."
[Collider]
---
Doctor Who
Here's one more promo for this Saturday's episode, "Journey to the Centre of the TARDIS."
And here's a synopsis for Neil Gaiman's episode, "Nightmare in Silver," which airs in two weeks:
Hedgewick's World of Wonders was once the greatest theme park in the galaxy, but it's now the dilapidated home to a shabby showman, a chess-playing dwarf and a dysfunctional army platoon. When the Doctor, Clara, Artie and Angie arrive, the last thing they expect is the re-emergence of one of the Doctor's oldest foes. The Cybermen are back!
---
Agents of S.H.I.E.L.D.
Creator Joss Whedon stresses that the show has to stand on its own apart from the Marvel cinematic universe:
What we're trying to do is open the door for that — but that's not the door to the main room. The big house is that S.H.I.E.L.D. has to work on its own. It can't be an Easter egg farm. It's got to be a show with characters you care about week to week, that if you've never seen a Marvel movie you can turn into... I believe the Marvel movies work partially because the idea of a superhero universe is not alien to our culture on so many levels. We're so used to it. And so the idea of a superhero show that isn't about superheroes, I think its time has come."
[TV Line]
We already quoted Clark Gregg as saying that Agent Coulson's survival probably hinges on ABC's (likely) pickup of the show. But he also says that Coulson would probably be in every episode: