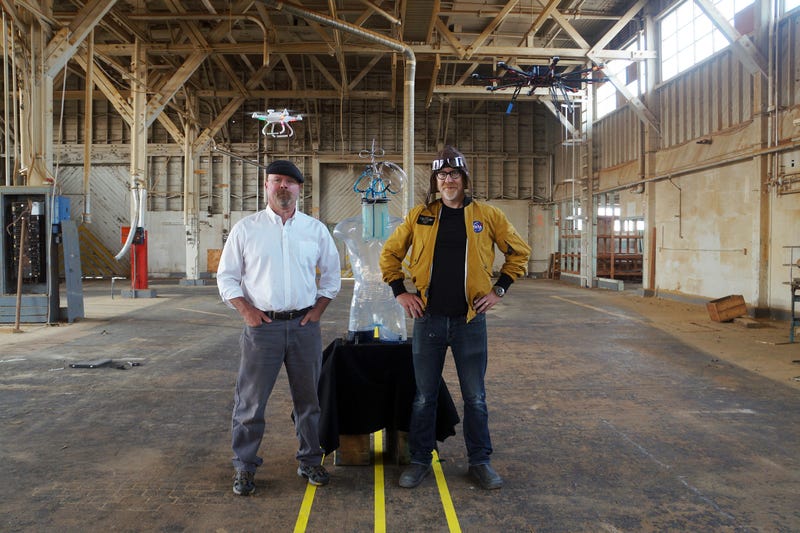 Tonight's episode of Mythbusters, Flights of Fantasy features two very different types of flying machines: drones and a Lockheed U-2 spy plane. Show hosts Adam Savage and Jaime Hyneman took a couple of minutes to chat with us about the episode and the rest of the newly-rebooted season of the show.
Tonight's episode sees the duo testing out two aviation questions: is the U-2 spy plane really as difficult to fly and land, and as we see more and more drones put to work with deliveries, just how dangerous can that be?
For the U2 spy plane segment, the pair head out to the Beale Air Force Base, home of the 9th Reconnaissance Wing, which flies the planes. The Mythbusters crew spent a couple of months working with the United States Air Force to figure out just what type of episode they could structure an episode around.
Once they had permission to fly aboard the planes, they had to make sure they were ready. "The suiting up was incredibly extensive." Savage noted, "Jamie and I went through an accelerated program: 2 solid days of learning how to put on the pressurized suit, and all the ways you can get out of the U2 while in mid air."
Where the pair have worked with bombs and other items with extensive safety protocols, the U-2 was slightly different. Because the planes aren't in as widespread use as other aircraft in the USAF, "the [escape] protocols were built by people just a few years ago. They were showing us how to pull the first ejection handle, then the second if the first didn't work, then the third. If that didn't work, you have to push back the canopy and climb out and jump." If they survived that? "They told us if we survived, that would be the new protocol."
Recently, Savage showed up at San Diego Comic Con dressed in a space suit of his own, along with Astronaut Chris Hadfield. When asked how they compared to one another, "My fake space suits are far more comfortable and easier to put on."