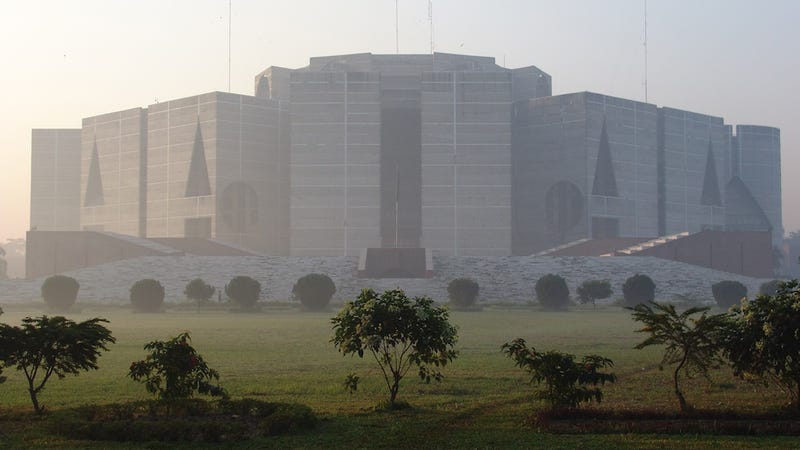 The Brutalist architectural style was popular in the mid-twentieth century. Any time you see a giant, cement building with a thick, angular silhouette — you can thank Brutalism. You may not find the style beautiful, but you have to admit these examples of it would make great scifi environments.
Jatiyo Sangshad Bhaban, the house of the Parliament of Bangladesh, Dhaka (Louis Kahn, 1961-1982)
(via Karl Ernst Roehl and Lykantrop)
Nichinan Cultural Center, Nichinan, Japan (Kenzo Tange, 1963)
(via Rolu, Geolocation/Valentini and Kenta Mabuchi)
J. Edgar Hoover Building, the headquarters of the FBI, Washington D. C. (Charles F. Murphy and Associates, 1965-1975)
(via Brunswyk)
The 31-storey Trellick Tower, West London, UK (Ernő Goldfinger, 1966-1972)
(via Jamie Barras and See Wah Cheng)
Orange County Government Center, Goshen, New York (Paul Rudolph, 1967)
(via Ani Od Chai and Joseph)
Habitat 67, Montreal, Canada (Moshe Sadfie, 1967)
The Tetris-like building was built for the 1967 World's Fair. It has 146 residences, (354 concrete forms in 12 storeys) all of them with a private terrace.