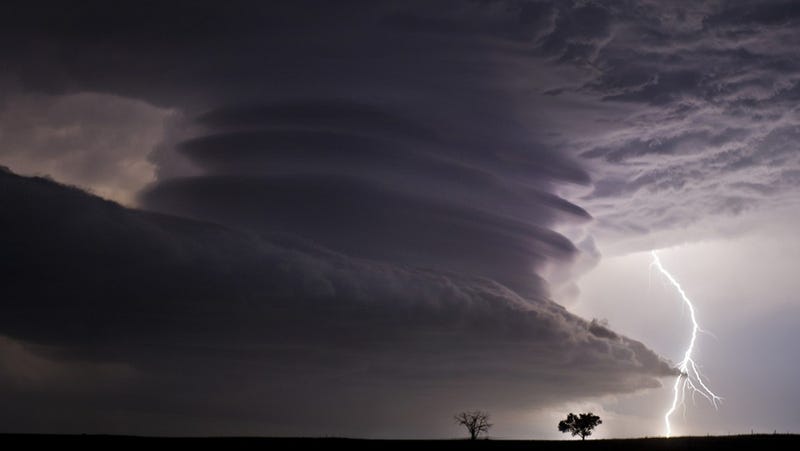 There's nothing more terrible to witness than a huge natural disaster. When the elements turn against us, it's the ultimate reminder that we're not in control over this planet as much as we like to believe. Here are some beautiful, harrowing images of nature's destructive fury.
Top image: A huge mesocyclone supercell near the Nebraska and Kansas border, June 22, 2012 (Photo by Jennifer Brindley, via National Geographic)
A tsunami after a 8.9 earthquake in Japan, March 11, 2011
(Photo by Tomohiko Kano/Mainichi Shimbun/dapd)
Hurricane Sandy on a satellite image of NASA and wrecked homes in Seaside Heights, New Jersey, October 29 and 31, 2012
(Photo by NASA and Mario Tama/Getty Images)
Pakistani flood affected people look towards an army helicopter dropping relief supplies, Rajanpur, Central Pakistan, August 15, 2010.
(Photo by Khalid Tanveer/AP)
During and after a huge forest fire southeast of Moscow, Russia, July 30 and August 1, 2010
(Photo by Mikhail Metzel/AP and Dmitry Christoprudov/AP)
Lightning seen amid the lava and ash erupting form the vent of the Eyjafjallajokull volcano in central Iceland, April 18, 2010.
(Photo by Jon Pall Vilhelmsson/AP)
Red dust storm in Broken Hill, New South Wales, Australia, February 1, 2010
You can see more pictures about some red waves breaking across the land here.