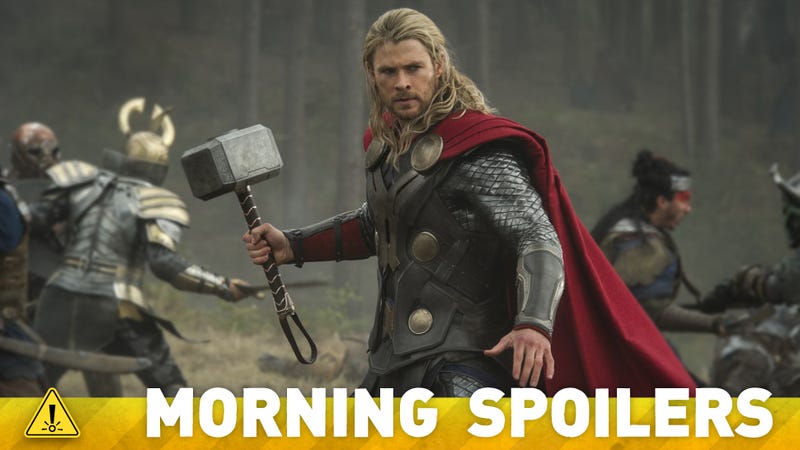 Check out the latest Thor and Star Trek sequel hints. A Captain America actor confirms his return in The Winter Soldier... probably. Teenage Mutant Ninja Turtles might have found its Shredder. Steven Moffat promises this week's Doctor Who will resolve one big mystery and lead into the next adventure. It's all spoilers right now!
Top image from Thor: The Dark World.
Star Trek Into Darkness
An article focusing on Zoe Saldana's Uhura and Alice Eve's Dr. Carol Marcus includes this plot description, which includes at least one intriguing hint about what lies ahead:
[Uhura] fires phasers as good as the guys and romances Spock (Zachary Quinto). Then there's Eve as science officer Dr. Carol Marcus, whose connection to Kirk (Chris Pine) will result in a crucial future plot twist. They and the rest of the Enterprise crew head to 21st-century San Francisco to stop a terrorist (Benedict Cumberbatch) waging a one-man war against Star Fleet.
Also, co-writer Damon Lindelof explains how the team ensured the female characters were just as strong and vibrant as their male counterparts:
"Uhura can never be the damsel in distress, never needs to be saved. She is ballsy and just as front and center as any of the guys. And when we were talking about Carol Marcus, that applied as well. She really had to have a reason to be in the movie. She's not just a love interest. She's not just eye candy."
---
Star Wars: Episode VII
Lucasfilm has now confirmed that production of Episode VII will indeed take place in the United Kingdom. The official website includes this quote from producer and Lucasfilm president Kathleen Kennedy:
"We've devoted serious time and attention to revisiting the origins of Star Wars as inspiration for our process on the new movie, and I'm thrilled that returning to the UK for production and utilizing the incredible talent there can be a part of that. Speaking from my own longstanding connection to the UK with films like Raiders of the Lost Ark, Empire of the Sun and recently War Horse, it's very exciting to be heading back."
---
Thor: The Dark World
Executive producer Craig Kyle discusses the Thor sequel's story and feel:
"It's The Empire Strikes Back. We're travelling further out into the other worlds of the Thor saga – the further out we go the further in we have to go with the character. We spent a lot of time in the first film in the palace. This time, we are going to see where the people live and where the pubs are!... [The movie will show] Valhalla drinking dens and training centers, Vanaheim, Svartalfheim... [The universe is] tilting into mayhem thanks to a busted bifrost bridge which allows new baddies, the marauders, to get a toehold in Thor's kingdom. The nice thing that Avengers did for us – besides make a lot of money – was [that it] dropped this bomb in the Marvel cinema universe and affected all of our characters in a huge way. The big event takes place and draws everybody out of their own BS, and then they have to go back to their own problems again."
[Total Film via Comic Book Movie]
Jaime Alexander talks some more about what to expect from Sif:
"I think we can all tell from the trailer that there's definitely a love triangle [between Thor, Jane Foster, and Sif]. We get to explore the Thor/Sif relationship, and that means in every aspect. She's grown up with him. He's almost like a brother, but at the same time she respects him so much now that there's deeper love there. And we also get to see a much more vulnerable side of Sif, which is really nice... There are scenes with Natalie [Portman] and I, even when other characters aren't around, and she's a blast to work with."
She also discusses the film in general, echoing some of Kyle's points:
We do get to see a lot more of the Asgardian lifestyle, and the daily lives of the warriors and that sort of thing... It's really as gorgeous as it was in the first movie. You get to see what it's like when they celebrate after a victory and how much they all love each other so much, and how they've known each other their entire lives – all the Warriors Three, Thor, the king, the queen, everybody. So it's really fun to see how they are with each other, and how actually, how similar it is to Earth: the way they treat each other, where they go to celebrate, what they do... Marvel's really great at tying the all the movies in together. [Thor: The Dark World] definitely brings up what happens in The Avengers. We can't just be up in Asgard and pretend like nothing happened. It wouldn't make any sense."
[Fandango]
---
Captain America: The Winter Soldier
Dominic Cooper more or less confirms that he will be back as Howard Stark, albeit in the most circuitous manner possible:
"Well... It's hard to say. We're shooting something for it. I've worn the costume again. But whether they just had me put it on as a joke, I don't know! [laughs] It was good fun getting back into it and he's got some very cool shades now. But who knows…"
[Total Film via Comic Book Movie]
---
The Amazing Spider-Man 2
Here's a set photo via WENN.com that shows a bald, grizzled, tattooed Paul Giamatti as Aleksei Sytsevich, alias Rhino. The photos show him driving a truck when Andrew Garfield — who is actually in the Spider-Man costume for these shots, because he takes his mask off between takes — shows up as Spider-Man and attacks. Check out the rest of the set here.