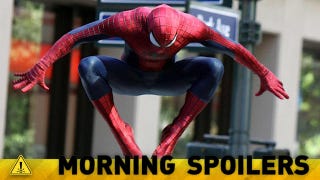 There's another crazy Star Wars casting rumor, involving Dame Judi Dench! Could Mary Jane be recast for Amazing Spider-Man 3? NBC's added major castmembers to its Rosemary's Baby series and greenlit a Oz-based show. Plus, the executive producers preview Once Upon a Time's return. Spoilers now!
Star Wars
Here's yet another casting rumor: Dame Judi Dench is supposedly in line to play Mon Mothma, a senator who helped found the Rebel Alliance. There's no confirmation, obviously, and nothing that indicates whether this is just some casting talk or anything more. But given that the sequels will be filming in the U.K., there's at least a slight possibility that she might be up for it. [Big Shiny Robot]
---
Amazing Spider-Man 3
Yes, already. So Shailene Woodley was supposed to play Mary Jane in Amazing Spider-Man 2, but her scenes were cut from the final film. Following that, the prevailing consensus was that Mary Jane would be in Amazing Spider-Man 3. But it seems like, should that be the case, Sony may have to recast Mary Jane, since Woodley thinks production on the Divergent sequels may make her appearing in Amazing Spider-Man 2 impossible. She told MTV:
I don't know anything, but seeing as how they picked up the next two Divergent films, I don't know how I would keep my sanity with two big action films in one year.
She did qualify that with "anything's possible," though. But it does seem like she won't be in it. [Slashfilm]
---
Avengers: Age of Ultron
Mark Ruffalo's opinion on the next Avengers script seems to line up with Scarlett Johansson's: humor and darkness. He told MTV: