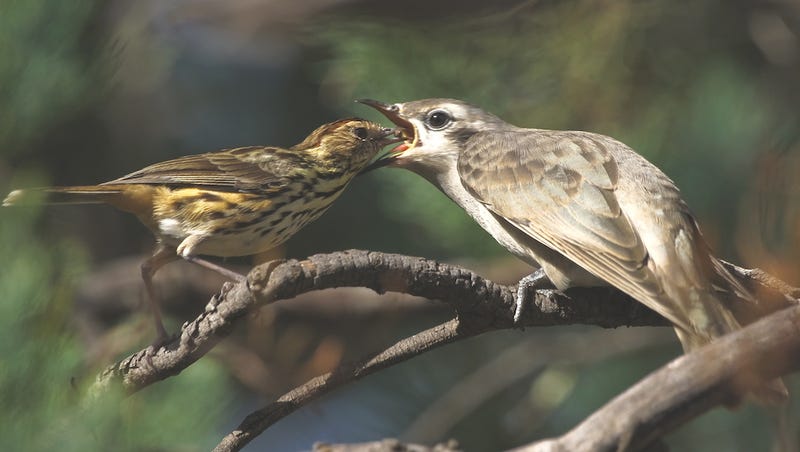 Humans often rear their children with help from family and friends. But why would such a strategy evolve? What could we possibly get out of rearing somebody else's child? Now, scientists believe that they've unraveled this mystery — at least when it comes to birds. In some species, birds temporarily forgo having chicks so that they can help their family members raise their children. Here's why this "cooperative breeding" strategy might have evolved.
Lending a Helping Hand
Though cooperative breeding is a seemingly odd behavior, studies suggest that it occurs in approximately 9 percent of bird species. In this type of child rearing, three or more birds will contribute to caring for the young in a nest, providing both food and protection. Most often, these helpers are the offspring from a previous brood — siblings to the chicks in the nest.
"In some cooperative breeders, the helpers are entirely non-relatives, and in some species there is a combination of relatives and non-relatives," said Naomi Langmore, a zoologist at the Australian National University in Canberra, Australia. "In general, the relatives are better helpers."
When a bird decides to become a helper, it loses out on reproducing during that season. But it's not the case that they're purposefully giving up reproduction to help — they usually wind up helping because there are no breeding territories left for them. And for older siblings, there is an actual benefit to cooperative breeding. "They are helping to raise their brothers and sisters, so they are still getting to pass on their genes to the next generation," Langmore told io9.
Research has shown, oddly, that there are global hotspots for cooperative breeding. That is, the behavior seems to be particularly common in Australasia and sub-Saharan Africa. Some scientists have proposed that maybe these cooperative breeders have a common ancestor who first practiced the behavior, and this is why it's concentrated in certain global regions. Other researchers have suggested that the behavior arises because of highly unpredictable environments, while others have suggested the exact opposite.
Another hypothesis proposes that there's some sort of connection between cooperative breeding and brood parasitism. Brood parasites are birds that surreptitiously lay their eggs in another bird's nest — usually targeting the nest of another bird species — and then flit off, forcing the unwitting parent to raise its young. This trick comes at a cost to the foster parents, because they now have one more mouth to feed. Often the parasite nestling, once hatched, will eject all other eggs or hatched chicks from the nest. It's no wonder, then, that these host parents try their best to keep brood parasite eggs out of their nests.