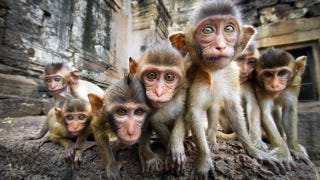 Looking to create more accurate experimental models for human diseases, biologists have created transgenic monkeys with "customized" mutations. It's considered a breakthrough in the effort to produce more human-like monkeys — but the ethics of all this are dubious at best.
Yup, scientists know that mice models suck. Though they're used in nearly 60% of all experiments, they're among the most unreliable test subjects when it comes to approximating human biological processes (what the hell is an autistic mouse, anyway)?
Great apes, like chimpanzees and bonobos, obviously make for better test subjects. But given how close these animals are to humans in terms of their cognitive and emotional capacities, they're increasingly being seen as ethically inappropriate models for experiments. Indeed, medical experiments on apes are on the way out. There's currently a great ape research ban in the Netherlands, New Zealand, the United Kingdom, Sweden, Germany, and Austria (where it's also illegal to test on lesser apes, like gibbons). In the US, where there are still over 1,200 chimps used for biomedical research, the NIH has decided to stop the practice.