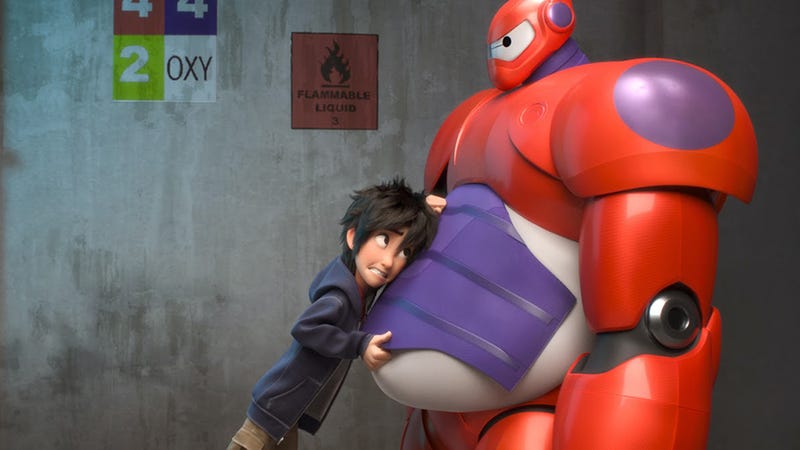 Disney's new film, Big Hero 6, is a celebration of science and the joy of innovation. In the guise of a superhero origin story, it tells a smart, inventive tale about young science geeks who grapple with issues around the responsible use of technology. It's one of the best science-fiction films in ages. Minor spoilers ahead...
A lot of people would argue that the real test of science fiction is whether a story revolves around scientific discovery, or some kind of novum. And then, how well the story explores the possible applications and ramifications of that new scientific idea. (This is one of several accepted definitions of science fiction.) By this standard, Big Hero 6 is terrific. The whole plot is driven by new inventions, and the film grapples with the different possible uses and implications of them.
Not only that, but the film's characters are pretty much all science geeks, and a lot of the most enjoyable scenes involve them geeking out about materials science and the difference between a titanium skeleton and a carbon fiber skeleton. (That said, this film is not hard science fiction, which should surprise nobody.)
The main character of Big Hero 6 is a young guy named Hiro Hamada, a genius robot-maker who just wants to take part in illegal robot fights. Until his brother Tadashi introduces him to all of the supergenius geeks at the San Fransokyo Institute of Technology, who are creating the next generation of bizarre inventions in one improbably cramped open-plan laboratory. And Tadashi shows off his own invention: an inflatable medical robot called Baymax.
After that, Hiro just wants to go to the Institute himself, and put his own amazing robotics skills to the test — but after everything goes wrong, he's forced to use his own cleverness and his brother's robot Baymax to set things right, along with a few other science geeks. That's all the plot synopsis I'm going to give, which is pretty much covered in the trailer.
The first 15 or 20 minutes of Big Hero 6 are just dazzling in the sheer number of cool widgets the movie throws at you. Especially when Hiro is traveling around the fictional mash-up city of San Fransokyo and meeting the other science geeks for the first time, the idea parade pretty much never stops. Even as the movie goes on, the neat ideas keep coming at a fairly brisk pace, but they're always cool scientific discoveries rather than fantasy bling.