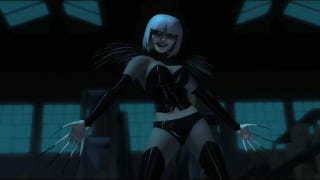 This week, Beware the Batman gets an amazing addition in Magpie, Futurama takes on G.I. Joe, the Guardians of the Galaxy crossover with Spider-Man, and TMNT returns!
As always - minor spoilers ahead!
---
Beware the Batman – "Secrets"
Magpie takes the stage in this episode, with the kleptomaniac becoming a target for both Batman and James Gordon. Grey DeLisle, one of the best voice actresses in the business, lends a spectacular tone to Magpie.
The second clip delves into the mysterious connection between Alfred and Katana, with a nice spoiler in store.
---
Teenage Mutant Ninja Turtles – "Parasitica"
A giant wasp stings Leo. Really. Leonardo is infected and hypnotized by the sting, leading him to fight off the other turtles in this episode.
---
DC Nation Shorts - "Wonder Woman, Part Two"
Last week's Wonder Woman short continues, with Giganta using military jeeps as roller skates to track down a member of DC's Trinity.
---
Transformers Prime - "Synthesis"
The next to last episode of the season is this week, with this clip showing Ratchet sabotage a vital experiment as it spins in a centrifuge.
---
Futurama – "Saturday Morning Fun Pit"
Futurama goes on a Saturday Morning cartoon bender, with the clip above showing their take on G.I. Joe.
For a full look at this week's episode, check out Esther's weekly Futurama recap.