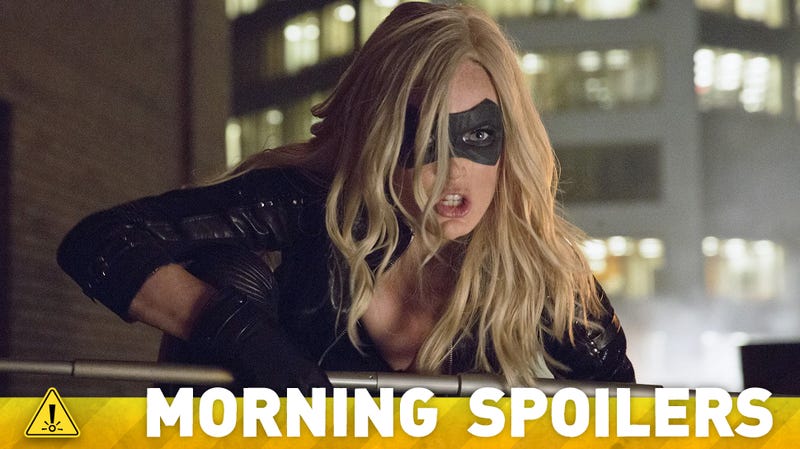 The Mortal Kombat movie stalls, while Deadpool's still trying to get off the ground. There's a ton of Black Canary action coming up on Arrow, Rachel McAdams may star opposite Keanu Reeves in Passengers. Plus, Spoilers now!
Top image: Arrow
Jupiter Rising
Director-siblings Andy and Lana Wachowski say that their next science fiction film is a major production, with Andy saying the special effects are way more complicated than Cloud Atlas. Lana described it in more depth, saying:
It's a science fiction space opera. It has a lot of things from a lot of genres that we love. It's got a lot of original action, it's got a lot of romance.

We seem not to be very good at making small things. We keep saying 'Let's go make a small movie.' But then they always end up being enormously complex. We want to somehow always find something that is different or that no one has tried.
---
Star Trek
Let's just all agree that the people behind the next Star Trek movie haven't started doing anything and don't know anything yet. At an Ender's Game interview, Bob Orci responded to questions about the next Star Trek movie by saying: "[I] just started thinking about it and was trying to steal as many good ideas from everyone I talked to, including this man."
"This man" was Harrison Ford, who was asked if he'd be in the next Trek movie, and jokingly responded, "Sure." [Trek Web]
---
Ender's Game
The Wrap has an early review of this movie up, and while the plot details (child prodigy at a military academy in a future where Earth fears an alien enemy) aren't new if you've read the book, the review says that Asa Butterfield's does a good job as Ender, hitting the "right notes of naiveté when necessary without undermining his believability as the most formidable military mind in the seventh grade." If this review is anything to go by, though, the stand-out performance is going to be Harrison Ford as Graff. [The Wrap]
---
Man of Steel 2: Batman vs. Superman
Speaking with Al Norton and 411mania.com, Ban Affleck discussed what made him take the role of Batman, and how he's thinking of the character:
Initially I was reluctant as I felt I didn't fit the traditional mold but once Zack showed me the concept, and that it would be both different from the great movies that Chris [Nolan] and Christian [Bale] made but still in keeping with tradition I was excited. Doing something different and new is always tricky and part of the thrill and the risk is that initially it confounds expectations. The truth is, it's the movie and the execution of it is what all the actors depend on and I believe in Zack's vision.

Al Norton: Warner Brothers CEO Kevin Tsujihara recently said that this version of Batman would be "tired and weary and seasoned and been doing it for awhile"...Is that how you envisioned him as well and what would you add to the description on the Bruce Wayne side of things?

Ben Affleck: Yes, Kevin described it aptly. I don't want to go further because I want to be able to capitalize on what is new about this iteration by having it be a surprise to the audience.
---
Passengers
Rachel McAdams is reportedly in talks to star with Keanu Reeves in this film, written by Prometheus writer Jon Spaihts. The film originally had Reese Witherspoon attached, but scheduling required her to drop out. The film follows a spacecraft transporting thousands of people in stasis, when a malfunction wakes a single passenger ninety years too early. Unwilling to grow old and die alone, he decides to wake another passenger, beginning a troubled love story. [Deadline]