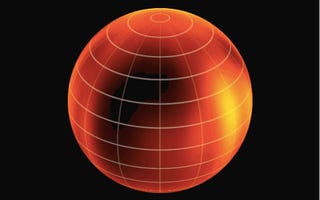 The European Southern Observatory's Very Large Telescope has been used to create history's first-ever map of weather on the surface of a brown dwarf. These images provide us with an unprecedented look at the atmospheric features of these poorly understood "failed stars."
Top Animation adapted from this video, via ESO/I. Crossfield.
The brown dwarf in question is WISE J104915.57-531906.1B. Known informally as "Luhman 16B," the object is one of two failed stars discovered last year by astronomer Kevin Luhman in infrared survey data acquired by NASA's sky-mapping WISE telescope. At just 6.5 light-years from Earth, Luhman 16B (and its sibling, Luhman 16A) are not only the closest brown dwarfs to our Solar System, they're the third-nearest system to Earth – the only closer-systems being Alpha Centauri and Barnard's Star.