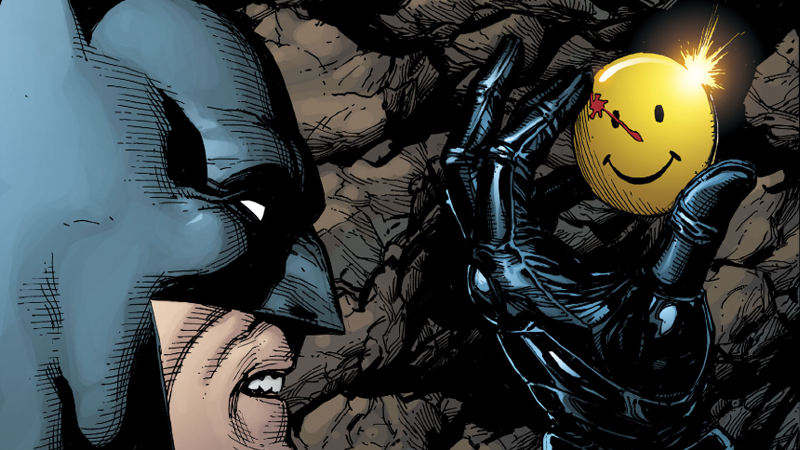 Batman's been showing a broader spectrum of emotions lately, with more trust and genuine attempts at connection coming from Bruce Wayne than he has in decades. But grief never strays too far from the Dark Knight's side. Batman writer Tom King told io9 how the superhero is going to handle Gotham City's latest devastating losses and when DC Rebirth's Watchmen mystery will start coming into play hint: (it's sooner than you think).
Last week at New York Comic-Con, I had a chance to sit down with the creative team of DC's main Batman title. In the conversation that follow, writer Tom King and penciller David Finch discuss their opening storyline, the surprising reappearances of goofy Silver Age Bat-villains and the intrigue around a certain iconic bloodstained happy-face pin.
---
io9: The first arc of your run on Batman is over and Gotham the hero has met his fate. Did you ever waver from that character ultimately self-destructing?

Tom King: No, poor Gotham was born to die. That was the whole idea behind the first arc was to have this background character, this Gotham Girl character, and the audience would think they're watching a Gotham story but they're really watching hers. And so we sort of did this twist on it where you're like, "Oh, here's another boring, generic white guy superhero..." and it's actually about his sister, and how she reacts to it.

And it seems like that trauma is going to be the throughline for the rest of the stuff you're seeding?

King: Yeah, that's the big motivation that drives the whole first trilogy—I Am Gotham, I Am Suicide and I Am Bane—is Batman saw a bit of hope in these superheroes. It starts in Batman #1 when he thinks he's going to die. There's a question for him and, in Gotham Girl, he sees an answer. Hope is crushed when Gotham dies. The only little part of that that's left is Gotham Girl and he sort of has to save her and he becomes obsessed with saving her. The only way to save her is to get Psycho-Pirate, who's under the control of Bane. That sort of dictates the whole arc.
David, we've seen a little bit of what Mikel Janin is doing for the upcoming arc featuring Bane. are you itching to draw Bane at this point? He seems like a character that speaks to your artistic proclivities.
David Finch: Oh yeah, that's— if I had to say— if I had the choice to do absolutely whatever I wanted? This is what I would be doing. You know? Bane is... I think probably my favorite villain right now. I'm really having a great time with it.