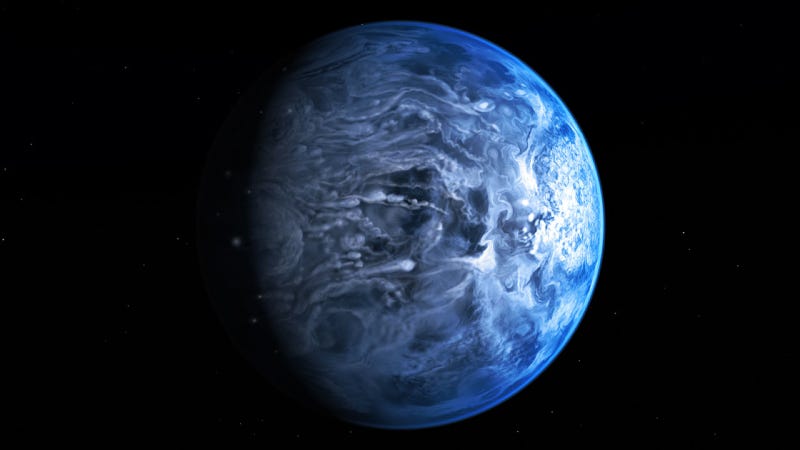 In a major breakthrough, researchers using the Hubble Space Telescope have seen the true color of a planet outside our solar system. HD 189733b, as the gas giant is called, is blue. A deep, vibrant, cobalt blue. And just wait til you hear why it's that color.
An international team of researchers led by Oxford astrophysicist Tom Evans deduced the planet's hue by measuring the light it reflects, a property known as albedo. To do so, the team measured fluctuations in light as it passed in front of and behind its parent star.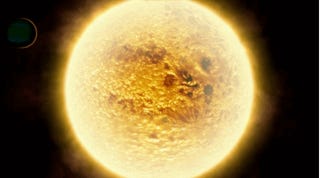 An artist's impression of HD 189733b transiting its parent star | ESA/NASA/Frédéric Pont (Geneva University Observatory)
"We saw the brightness of the whole system drop in the blue part of the spectrum when the planet passed behind its star," said Evans in a statement. "From this, we can gather that the planet is blue, because the signal remained constant at the other colors we measured."
From space, HD 189773b looks a lot like our own pale blue dot. Previous research even suggests that sunsets on the planet may look a lot like those seen from here on Earth, its atmosphere tinted a hazy rouge by the last light of a sun dipping over the horizon. But unlike Earth, HD 189773b's azure hue is thought to result not from the reflection of a tropical ocean, but its alien atmosphere.