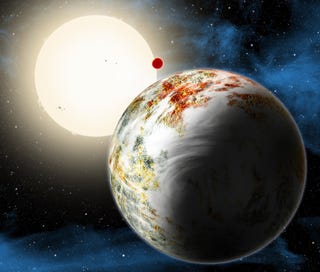 Meet the "Mega Earth." Described today by astronomers from the Harvard-Smithsonian Center for Astrophysics, this ancient rocky world weighs 17 times as much as Earth — which is a big surprise considering that rocky, solid planets aren't supposed to get that huge.
Above: Artistic impression of the newly classified "mega-Earth" Kepler-10c (foreground). Its sibling, the lava-world Kepler-10b, is in the background. Kepler-10c is comprised of solids, although it may possess a thin atmosphere shown here as wispy clouds. Credit: David A. Aguilar (CfA)
It's called Kepler-10c and it's located about 560 light-years from Earth. It circles a sun-like star, Kepler-10, once every 45 days, so it's in a fairly tight orbit. The system also hosts a 3-Earth-mass "lava world," Kepler-10b, in a crazy-fast 20-hour orbit.
'A New Population of Solid Planets'
Astronomers have known about Kepler-10c for several years. Preliminary measurements indicated a diameter of about 18,000 miles (29,000 km), which is 2.3 times as large as Earth. Based on these particulars, astronomers concluded that Kepler-10c was a mini-Neptune — planets featuring thick, gaseous atmospheres.