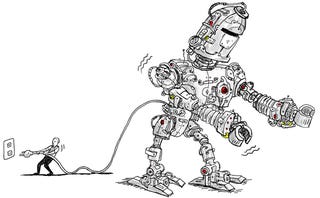 Futurists and science fiction authors often give us overly grim visions of the future, especially when it comes to the Singularity and the risks of artificial superintelligence. Scifi novelist David Brin talked to us about why these dire predictions are often simplistic and unreasonable.
Illustration: Jim Cooke
Our civilization faces no shortage of risks in the foreseeable future, from the devastating effects of climate change to the myriad number of technological hazards set to appear in the near future. Among these existential threats, perhaps none is more frightening than the prospect of artificial superintelligence. Its advent could knock us from our perch, forever delegating us to a secondary role, or worse, complete irrelevance.