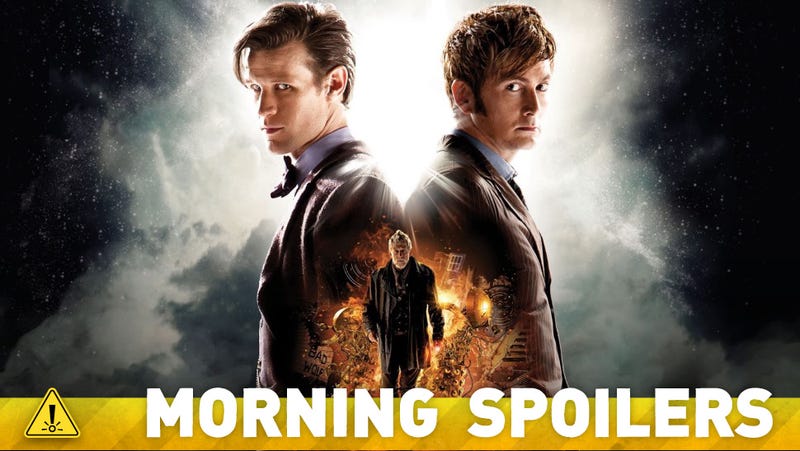 We now know that Chloe Grace Moretz hasn't auditioned for Star Wars — but Saoirse Ronan may have auditioned with a lightsaber in her hand. There's new footage from Ender's Game, Thor 2, The Hobbit and NBC's Dracula. Plus, the World War Z sequel needs a new director. Spoilers now!
Star Wars: Episode VII
Instead of a casting rumor, we now have confirmation from Chloe Grace Moretz that she DID NOT audition for a part:
No, no, rumors — I don't know how they get started. But it would be great to be a part of it. I don't think Disney doesn't know what's really going to happen. I don't even think they cast the principle roles yet.
But in the land of casting, Saoirse Ronan has given more details about what her audition looked like (it included a lightsaber!):
Nobody has a clue what it's about, and nobody's read the script. So I've gone in and read for it, but I have to say, I think it's the only time I've ever thought, "You know what? Even if I don't get it, I had so much fun auditioning, pretending to take out a lightsaber –- out of a bag, kind of inspect it and not know what it is, That was ... that was great. A lightsaber! 'Star Wars'!"
And Benedict Cumberbatch isn't exactly denying the casting rumors about him, either. Responding to the idea that he'd be reuniting with J.J. Abrams:
I've always had an eye on longevity; I've got loads more goals to achieve. It's not like I've completely conquered the whole thing. That's a lifetime's objective, not an overnight thing.
So make of that what you will. [The Independent]
---
Captain America: The Winter Soldier
In an interview with Rolling Stone, Anthony Mackie spoke about the preparation he did to play the Falcon and what he's seen so far:
You've got the Captain America sequel coming up. Did it help to get fit for that?
I wanted Falcon to be really lean, so it couldn't have worked out better timing wise. I worked so hard to get my body in shape that I wanted to show it off. So I told Marvel I just wanted to be in spandex. But they decided that they wanted Falcon to be more of a military character, which I'm not complaining about, because my gear looks dope and I get to kick a lot of ass. Ever since I got in good shape, though, I'm all about spandex.

Were you nervous about what people would think of you as Falcon?
You know what? The comic book world is 100 times more fickle than movie audiences, so I've been trying to avoid reading any fan blogs or thoughts on how I might be a miscast or whatever.

Have you seen any of the footage?
Yes, and it looks amazing. It's so much bigger than everyone thought it would be, and we're kicking a lot of ass. It's a lot of fun to be a part of, especially with Samuel L. Jackson, who's been my mentor for so many years.

A lot of actors in the Marvel universe hear about sequels for the first time second hand. Is that rough?
It can be frustrating at times, because if you're not "in house" with them, if you're not one of the people making the vision and you have no way of knowing what's going on. It's kind of like a sports game – something great can happen at any moment. One day you'll get a call from Marvel that's like, "Hey, we need you in New Mexico right now for The Avengers 2." I'd ride a moped to that set if I had to. My friends keep saying, "you'll be doing these forever," but I don't know about that. If it works out, it works out. It's all very hush.
---
Ender's Games
On the German TV show Wetten Daas . . .?, Harrison Ford showed new footage from the film, including Battle Room footage. [Enderwiggen.net]
---
The Hobbit: The Desolation of Smaug
New elf-tastic TV spot:
---
World War Z 2
A profile on Brad Pitt's production company slipped in the little detail that, while the company is working on a sequel, the director of the first, Marc Forster, won't be back. [Slashfilm]
---
Into the Woods
The movie adaptation of Stephen Sondheim's meta fairy tale musical is in production, and now we have some behind-the-scenes shots of the beanstalk, Daniel Huttlestone's Jack, and Tracy Ullman as Jack's mother. [Broadway World]
---
Thor: The Dark World
New TV Spot, which seems to focus very hard on the brothers:
---
Doctor Who
Kate O'Mara, who played the renegade Time Lady the Rani, wants to return to the show. She says:
I would love to come back. I have white hair now, but a lot of it, and I'm still very glamorous and so I won't disappoint, I hope! I'll still be wearing the tight leather trousers and high-heel boots, regardless of what age! That's what the fans are expecting, so that's what you've got to give them.

I'm a much older woman and there's a huge population of older people who, if they're watching television, they can't watch Hollyoaks.

If you put a much older woman in Doctor Who, they can identify with it. I think it's quite an interesting concept and if you remember things like Grimm's Fairytales, the older woman is often the villainess, often the terrifying figure – why I do not know, but often she is. I think it's an idea to be exploited.
Add this to list of people officially not involved in the 50th Anniversary Special: Karen Gillan. In a Radio Times interview, Gillan said:
I'm not in it, just to put that out there. I think I'm going to be in America, so I'll probably round up all the people who like to watch Doctor Who in the area. We'll probably watch it and drink PG Tips and eat Jammy Dodgers, if I can get them.
---
Agents of SHIELD
Here's a sneak peek of this week's episode, "The Asset":
Below is the official synopsis of episode six, "Girl in the Flower Dress":
Girl in the Flower Dress" - An elusive girl in a flower dress may hold the key to the mystery that brings Coulson and team to Asia to rescue a young man with an unusual and dangerous power; and Skye has a secret that jeopardizes her relationship with the team right when they need her most.
---
Dracula
A brand new trailer showing Jonathan Rhys Meyers in NBC's Dracula has been released. [E! Online]
---
The Originals
Executive producer Michael Narducci explains what Cami the bartender's role will be:
Very early on, we'll see that she catches the eye of Marcel. So if you're Klaus, and you want to get to the bottom of Marcel and his power dynamic, it's very interesting to notice that this girl Cami has caught Marcel's eye. A lot of the fans are assuming, "Oh my God, is there going to be a romance?" I think it's far more interesting to play just a human connection, 'cause he doesn't really have a lot of friends. Klaus is someone who either kills you or manipulates you. Cami is someone who is educated enough that he might take a pause and just be curious to get to know her. Her history with New Orleans and her education are going to make her someone very interesting for Klaus to interact with.
He also explains how the show will deal with the fact that an important fact, that Marcel was using a character named Davina to control the witches, was in the director's cut of the pilot and cut from the aired version:
I was heartbroken when they were not able to include [her] in the episode. But really, it's more in line with the series, and less in line with what the story was of that Vampire Diaries episode. We will go forward under the assumption that people are aware of that information, but we will do the reset.
More at the link. [TV Line]
And Claire Holt, who plays Rebekah, talks about her role in the spinoff:
ETonline: What excites you about bringing Rebekah over to The Originals?
Holt: I'm excited to get back to Rebekah's roots. The loyalty she's always felt to her family has been persistent throughout all these centuries and despite being betrayed by Klaus, she made an always and forever oath so it's been really great to get to explore the relationship more. The Vampire Diaries is dedicated to that love triangle, so there's only so much screentime you can get. As actors we're getting to grow with these characters, and there's so many amazing actors coming in for this show, and they're exciting to watch. The stories are so fresh, which is what's amazing about starting a new show. We're always in shock as to what the writers are bringing us.

ETonline: What's interesting about this spin-off is that we've spent quite a long time with these characters already and we've seen them really mature. Rebekah came in as the biggest bitch in all of bitchdom and slowly became a very human character who was longing for her humanity. Which version of her will we see on The Originals?
Holt: Here's the thing, I think we've had to take a step back with that, which I'm not against because I love playing sassy Rebekah. But she's still carrying on those more human traits. You see it in her relationship with Hayley because they have a sisterly bond whereas before she may have just not cared or bothered with this girl. I think Rebekah is going to lean a little more towards her sassy, bitchy self, but all for a good cause. It's an excellent combination of the two versions we've seen of her.

ETonline: How does she feel about this pregnancy?
Holt: At first she's coming to make amends so she doesn't really care about Hayley when she arrives, but then she starts to feel protective of her and this child and feels the maternal instincts she wouldn't normally get to nourish because she can't have a child of her own. It's kind of nice to have that bonding going on.

ETonline: We've also been told that Rebekah and Marcel share a past. How do you describe it?
Holt: Heated, intense, they have such a history together and I think it's really going to be apparent throughout the season that they have a real forbidden love, which is great. Passion that can't be fulfilled is an exciting emotion to play for me.
More at the link. [Entertainment Tonight]