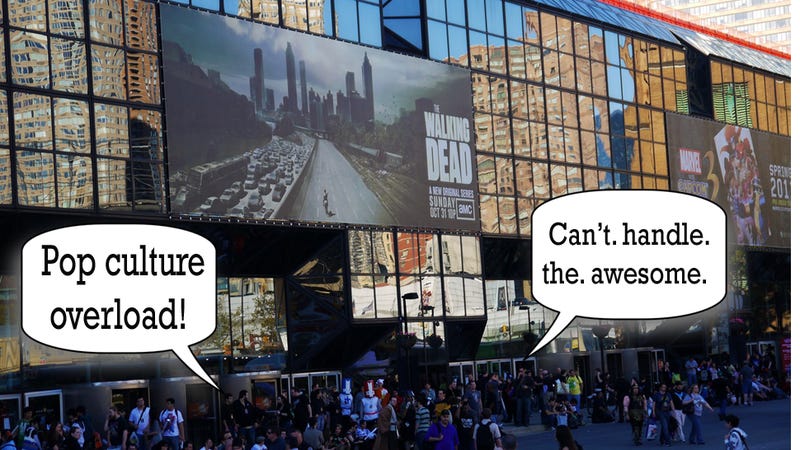 Last weekend at New York Comic-Con, a lot of attendees found themselves tweeting ecstatically about the convention — without having written those tweets, because NYCC had hijacked people's social media accounts that were linked to their badges. In this open letter, the Electronic Frontier Foundation explains why that's heinous.
Top image: Santos "Grim Santo" Gonzalez
Dear comic/sci-fi/fantasy/etc. convention organizers:
You may have read about the galactic frack-up at New York Comic-Con last week, in which hundreds of convention-goers learned that NYCC was posting hideously uncreative, gratuitously gleeful promotional tweets from their personal Twitter accounts. As a convention organizer yourself, these tweets and the subsequently trollful complaints may have filled up your feed. Nightmares of similar PR disasters may have (should have) have kept your heart racing as you tried to sleep.
NYCC attendees contacted us to ask what can be done about it, and that's why I entreat you today to think thoroughly through future attempts to lever technology against the fandoms, particularly when it comes to linking convention badges to personal data, including location.
Here's what happened, according to Polygon:
Within hours of the show opening its doors, members of the press, professionals and attendees discovered that their Twitter accounts were automatically sending out messages praising the show. Among those whose accounts tweeted without their knowledge were my own, IGN's Greg Miller, Ain't It Cool News' Harry Knowles, Attract Mode's Matt Hawkins and, according to Twitter, hundreds of others.

The pre-written tweets — more than 500 of them — were sent out on accounts shortly after the doors opened. They included the phrases "So much pop culture to digest! Can't. handle. the. awesome. #NYCC," "I can't get enough #NYCC!" and "So much to see, so much to do! #NYCC 2013 I love you!"
Unsurprisingly, fans at NYCC had enough of these promotional tweets as soon as the con started. Polar. Opposite. Of. Awesome. Apparently, when attendees activated their RFID-enabled badges, they unintentionally granted NYCC's organizers—ReedPOP—the ability to post tweets on their behalf. According to Kotaku (and others), NYCC has since apologized for being "too enthusiastic in our messaging and eagerness to spread the good word about NYCC," and shut down the program.