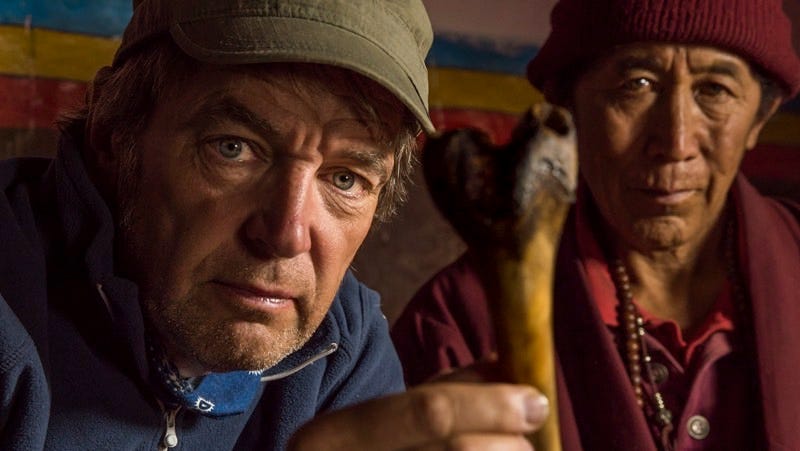 Animal Planet's "Monster Week" is filled with animal-attack specials and episodes of the network's big hit, River Monsters. But there's one program that taps into a surprising amount of science: Yeti or Not, which follows Dr. Mark Evans as he roams the Himalayas, looking for evidence of the mythical beast.

Yes. We know you read the word "Yeti" and had some immediate questions, skeptical thoughts, visions of the Matterhorn ride at Disneyland, etc. So did we, so we talked to Evans, who's a veterinarian when he's not traveling the world filming TV shows, ahead of the Yeti or Not world premiere. First, though, here's an exclusive clip from the special, in which Evans comes upon some unusual samples that he plans to submit for DNA testing, hoping to prove his theory that the Yeti of legend is either: a) a hybrid bear species; b) a human ancestor that somehow defied extinction; or c) both, existing simultaneously.
io9: What interests you about cryptozoology, and Yetis in particular?
Dr. Mark Evans: I think it's the intensive, sort of childlike curiosity that's driven me throughout my career—I just need to answer questions about biology. And Yetis have been this one longstanding question in biology that actually we struggle to get to the bottom of. It's just so fascinating; it's interesting that we call it cryptozoology, simply because it's hidden zoology. There are lots of animals that have been hidden until relatively recently that we now accept as perfectly normal. And the Yeti also have something to do with the human relationship with the natural world. It's become such a part of the Tibetan culture, in stories that have been told over generations.
Do you consider yourself to be a skeptic?
Evans: I am, hopefully, a healthily intelligent skeptic. I won't accept things at face value—I never have—and the tool I have in my toolbox is science. I approach these things with a human interest, of course, like anybody else. What I want to do is entice other scientists, who are much more clever than me, to use their skills and experience, as well as the scientific tools they now have available, to see if we can add to the pieces of the jigsaw puzzle and help the community of people who want to find answers [about the existence, or not, of Yetis].
Obviously, the explosion over the last 10 or 15 years of our ability to dig about in DNA is a tool that I think is incredibly valuable in this debate, and one that I've been incredibly keen to see if it can try and help us.
One of Animal Planet's most popular shows is Finding Bigfoot, which follows Sasquatch hunters who are hoping to record a close encounter. But Yeti or Not has scenes of lab work rather than night vision in the deep woods. What inspired you to structure it that way?