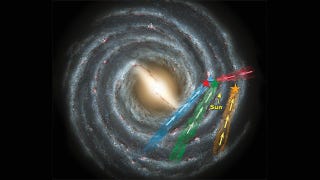 Every once in a while, the Milky Way's supermassive black hole flings a wayward star into intergalactic space at speeds reaching 2 million miles per hour. But astronomers have now discovered a surprising new class of "hypervelocity stars" that can escape the galaxy — and they don't need the galactic core to do it.
Astronomers first discovered hypervelocity stars back in 2005. There may be some 1,000 exile stars originating from the Milky Way, all of them forming near the supermassive black hole at the core of our galaxy. Astronomers estimate that these giant blue stars are tossed out of these central regions every 100,000 years or so.
Hypervelocity stars are typically former members of a binary star system; when a binary swings too close to the supermassive black hole, the intense gravity yanks the binary apart, capturing one star while violently flinging the other outward at tremendous speeds — sometimes reaching 0.2% the speed of light, or 895 km/s, so they're aptly named.