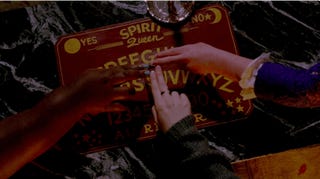 Last night's American Horror Story had all sorts of bitchy witching. So "Witch Up," ladies, and bust out the "We don't have the rights to Quija" board, because it's time to fuck with some ghosts. Probably literally, knowing this show.
Spoilers ahead...
Last night's historical witch flashback focused on a coven of suffragettes. And these witches were worried — not because they couldn't vote, but because of an axe murderer called the Axeman, which isn't terrible inspired but that's OK because he was REALLY REAL.
Yes the Axeman (like the characters Angela Bassett and Kathy Bates are both playing) was an actual serial killer in 1919 New Orleans. And as legend has it, he would spare the lives of those who played jazz in their homes. Or at least that's what a lot of the people in town believed (and were encouraged to believe by a collection of letters the Axeman allegedly sent to the press).
This Axeman is played by the pepper-haired Danny Huston, an actor I've always liked for the way he kind of sings his dialogue. So yes casting him as a jazz musician who hacked to death non-jazz fans was a pretty brilliant decision, if not an obvious one. Also new to this cast: a few old victims for the first season of American Horror Story flashbacks and Grace Gummar (Meryl Streep's daughter) as leader of the old-timey witches.
Total honesty, I wasn't into the pre-flapper witches. The whole set up felt forced. Perhaps it's hard to compete with the slow "Age of Aquarius" stair strut flashback from the first season, but I kind of expected more from this talented batch of women in the costume department. That is not to say I am without hope for this time period. I've seen the flapper Supreme witch painting on the walls of the Coven's abode, and I cannot wait for that witch to charleston right on over.