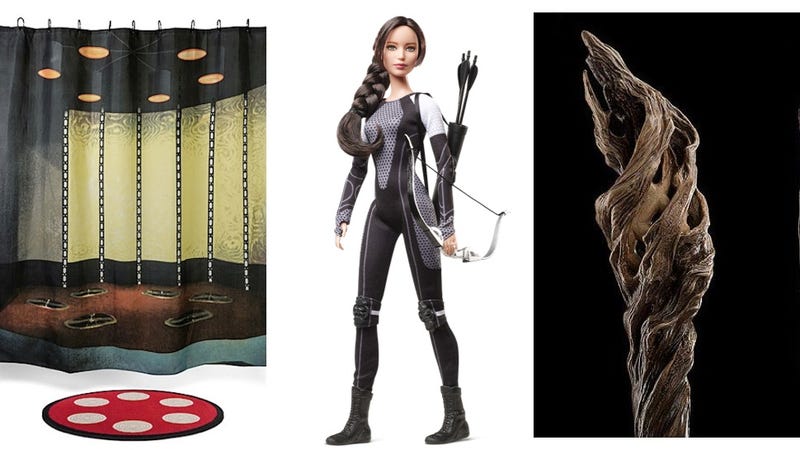 Are you already panicking about what to buy your friends and family for the holidays this year? Don't. First of all, it isn't even December yet, and second of all, we've assembled yet another guide of 20 great gift ideas for the people in your life who know receiving toys on Christmas never goes out of style.
Doctor Who TARDIS Mini-Fridge
There are only about a million items designed to look like the Doctor's TARDIS, but few of them are as functional as this adorable tinymini-fridge from ThinkGeek. It actually plays the TARDIS sound when you open and close the door, and can switch from cold to hot in case you prefer your jelly babies warm. It's $80, and you can order it here.
The Walking Dead 10-Inch Daryl Dixon Action Figure
Easily the biggest badass on the show — and pretty much the only character who's been likeable the entire time — Daryl Dixon is the main reason TWD is such a hit. McFarlane Toys has released this 10-inch figure made with a full-body 3D scan of actor Norman Reedus himself. It's all the protection from Walkers your toys will ever need. He's $30-40 at mst online retailers.
Thor Nerf Hammer
Everyone can be worthy to wield the power of Thor thanks to Hasbro's Thor: The Dark World soft foam hammer, because everyone can lift this lightweight Mjolnir. The Nerf hammer of the gods is soft enough that you can hit your adopted brother in the face with it and do little to no damage (your adopted brother should be a god of mischief, though, or else your parents probably won't be forgiving). It's $13 at most toy stores.
D20 Whiskey Stones
Anyone who hasd ever had to make a saving throw against inebiration will surely appreciate these whiskey stones, shaped like 20-sided dice. They freeze so you can put them in your beverage of choice, chilling it but without watering it down as ice does. A set of two are available at ThinkGeek for $20.
Nerdy Ice Trays
Despite the allure of the D20 whiskey stones, sometimes you really want ice in your beverage — and sometimes, you want that ice to be nerdy. Diamond Select has the market cornered on nerdy ice trays, with The Walking Dead, Back to the Future, Ghostbusters, Star Trek, and much, much more, all shaped into various characters, vehicles, logos and more, all for only about $15 each.
The Hunger Games: Catching Fire Barbie at Katniss Figure
Barbie knows what's it's like to have to kill others for her own survival (what do you think happened to Skipper?). So celebrate her survival with the shockingly good-looking Barbie as Katniss doll in her new Hunger Games uniform. Peeta, Finnick and Effie are also available for $25 each (it should be noted that Finnick is not quite as movie accurate as Katniss).
Chewbacca Messenger Bag
Few people remember that Chewbacca was the progenitor of the man-purse, well before it was considered cool. But what can I say? The Wookiee was an iconoclast. But you can pay homage to his fashion forward thinking with this faux leather replica, complete with bandolier strap. It's $90 here.
Lego Mindstorms 31313
The most advanced Lego set ever, the new Mindstorms system allows young mad scientists the ability to make five pre-set robots and millions of their own unique creations, each with the ability to move, talk, touch, sense color, and more — and all controlled on your smartphone. The set is $350.
DC Comics New 52 Superheroes Vs. Supervillains 6-Pack
Good versus evil clash in this special action figure set from DC collectibles. It includes Batman iun all black, The Flash with a metallic sheen, an updated Aquaman, Black Manta, the New 52 version of Captain Cold, the New 52 Catwoman (baring her New 52 cleavage) and the new Joker with his severed face tied to his head from Death of the Family. The set goes for $100 here.
Theremin Mini-Kit
At the pointy where science and music collide, there lies the Theremin. This Japanese kit is easy to assemble and allows you to replicate the soundtrack of pretty much every single scifi movie on the 1950s in your home or office. And don't worry. ThinkGeek provides assembly instructions in English, too. It's $40 here.
The Walking Dead Board Games
Enjoy all the fun of the zombie apocalypse without all the hassle of listening to Lori with these Walking Dead board games! We've already mentioned The Walking Dead Monopoly (and its amazing game pieces) but there's also a TWD Risk which, frankly, sounds kind of brilliant. They'll each from you around $45-50.