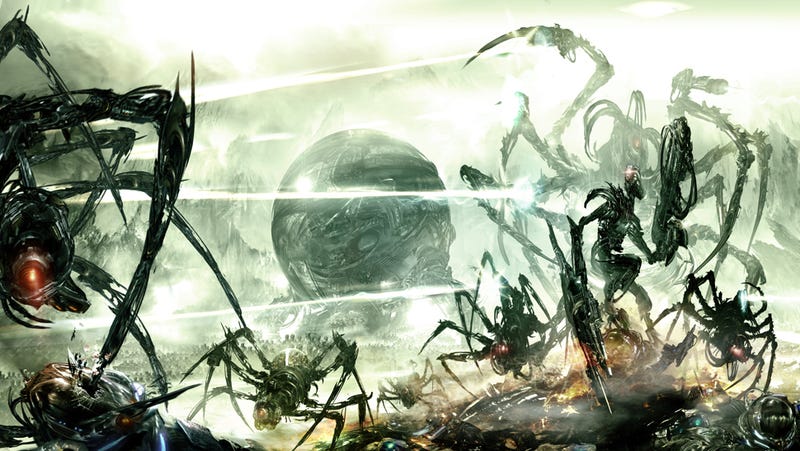 Summer movie season is pretty much over — but books are just getting started. This month's books include bracing space opera, poignant magical realism, dark subversive futures, epic fantasy. And most of all, lots and lots of mind-blowing action. Here are all the books you can't afford to sleep on in August.
Image: Jon Sullivan art for the Owner Trilogy by Neal Asher.
Zero Point (The Owner) by Neal Asher (Night Shade Books)
It's the second book in Asher's Owner series, and this time things are becoming way more complicated. There's a power struggle in the ruins of Earth, a Martian base facing total annihilation due to a crashing space station. And on board that space station, a man's cybernetic consciousness may have uncovered the secret of eternal life — and the truth about some unspeakable experiments on human subjects.
Billy Moon by Douglas Lain (Tor Books)
The author of the beloved novella "Wave of Mutilation" is finally putting out his first proper novel — and it's a bizarre magical realist tale with political overtones. Billy Moon is Christopher Robin Milne, aka the son of A.A. Milne and the inspiration for the famous Winnie the Pooh stories. In 1968, he's a middle-aged veteran of World War II, still dealing with war trauma and his parents' fame — when a friend lures him to Paris, where protests are tearing everything loose.
Dust by Hugh Howey (CreateSpace)
The final act in Howey's Silo series, which began with Wool. This is the book that ties everything together and wraps up all of the major storylines in Howey's post-apocalyptic universe. There's still not much info about the plot on the Amazon page, but by all accounts this is Howey's last word in the Silo universe.
The Sensory Deception by Ransom Stephens (47North)
Stephens, a former physics professor, has come up with a really thought-provoking premise here — a neurologist and an engineer have come up with a virtual reality system that really lets you feel what it's like to be an endangered animal fighting for survival. But once they get funding from venture capitalists, their backers want the VR experience to be scarier and more ferocious, and maybe something that can be sold as a game. How far will these animal-lovers go to preserve the purity of their environmentalist vision?
Blood of Tyrants (Temeraire) by Naomi Novik (Del Rey)
To quote from our review: "Perhaps the most fascinating part of Novik's series has always been the evolving role of dragons. In England, homeland to our hero Captain William Laurence, dragons are treated as chattel. Though they are clearly intelligent, able to speak, read, and reason, English dragons are treated as sentient bombers in the Aerial Corps. But all of that begins to change when Laurence is adopted by a brilliant, fierce and slightly eccentric Chinese dragon named Temeraire."