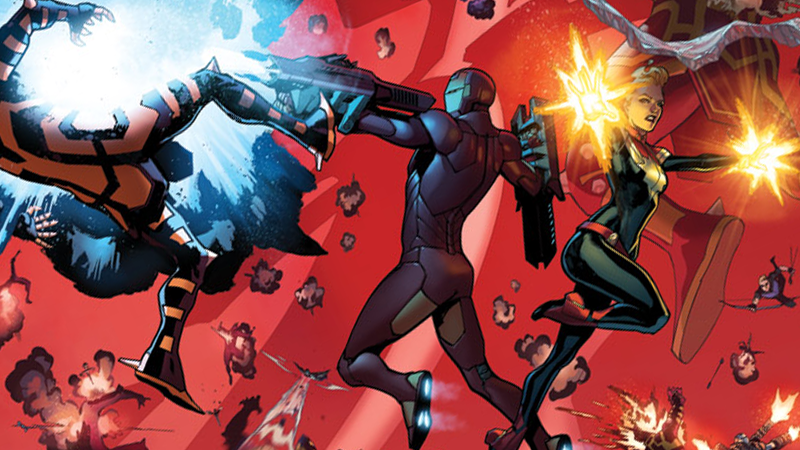 It's been a decade since Tony Stark and Steve Rogers came to blows over the struggle between freedom and security in the original Civil War comic series, but Marvel's sequel, due out this May, takes place in a very different time and place for Marvel's heroes. Here's what you need to know.
Yesterday afternoon, Marvel held a press conference featuring Civil War II series writer Brian Michael Bendis, Editor Tom Brevoort, and Editor-in-Chief Axel Alonso to peel back the curtain on the incoming event series, which sees the heroes of the Marvel universe split into two opposing sides, one lead by Tony Stark's Iron Man, the other lead by Carol Danvers' Captain Marvel. But how does it all come about? Well...
It Starts With a Bang
Almost literally. Civil War II kicks off in a special Free Comic Book Day release that tells its "own story" rather than acting as a preview copy of a later issue, according to Brevoort, and it sets up a huge invasion that opens the series. This event requires the heroes of Marvel's universe—whether that's Tony and his All-New, All-Different Avengers, or Captain Marvel and her Alpha Flight team—to band together and save the world. Bendis wouldn't identify the cosmic villain that kicks off the event, but described it as the sort of climactic event that shapes the rest of Civil War going forward.
An Inhuman Sits at the Heart of the Conflict
One thing that will stand out from this opening invasion—or one person, rather—is a new Inhuman character, who has the power to predict future events with an uncanny accuracy. Named Ulysses, the young man seemingly only recently awakened his Inhuman powers before the events of Civil War II. "He was on a pretty traditional route on America, and something happened that completely derailed his life—and that's becoming an Inhuman. ...This is someone who had a specific view of the superhero community, and then is thrust right in the middle of it in a very controversial and dividing way," Bendis added.
And we know just how dividing that is alread; Ulysses' precognitive powers splits the gathered heroes on just how they should be used. Carol Danvers believes they should be exploited so heroes can stop crimes and life-threatening events before they even happen, but Tony Stark—who's grown a lot since his unpopular stance about superhero regulation in the original Civil War—believes that no one has the right to prosecute innocent people for a criminal act they'll supposedly commit in the future. "We were talking about things that were going on in the world today that are similarly dividing to our culture, which is very different from where we were 10 years ago with the original Civil War," Bendis continued.
The Teams Aren't Definitive
Marvel recently revealed two pieces of artwork, covers for the Civil War II: Choosing Sides miniseries, that seemingly revealed at least some of the heroes that fall onto either Team Tony or Team Carol.