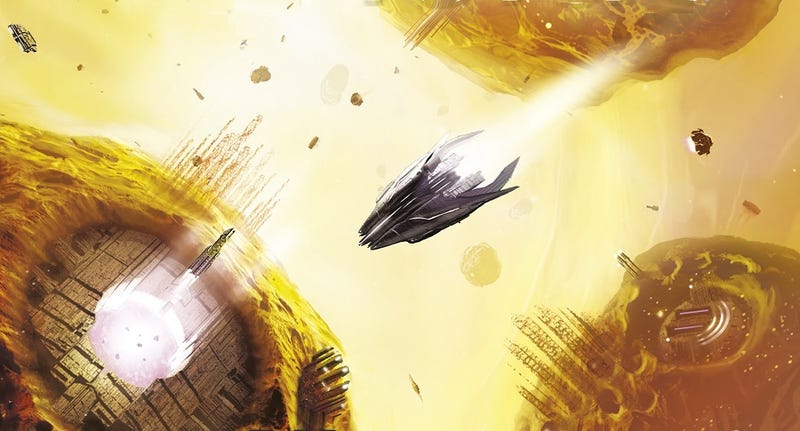 September's bookshelves strain under the weight of so much awesome. There are long-awaited sequels by Stephen King and Margaret Atwood. New Alastair Reynolds and Kim Stanley Robinson! Plus much, much more. Here are all the books you absolutely should not sleep on in September!
Top image: Cover art for On the Steel Breeze by Alastair Reynolds
Conjured by Sarah Beth Durst (Walker Childrens)
This book sounds like so much fun — Eve is in a "magical witness protection program," being hidden from a magic-wielding serial killer. But she's lost all memory of her past life. And every time she uses her secret magical powers, she blacks out and wakes up weeks later, with no memory of what happened in between. Add strange dreams of a spooky carnival, and we're all the way in.
Shaman by Kim Stanley Robinson (Orbit)
He took us to our dazzling future in 2312 — now Robinson is leaping back through time, to a prehistoric era, for a strange coming-of-age story. Shaman focuses on Loon, who's destined to be the next shaman in a local tribe, and has to go on a dangerous journey to find his own path.
Happy Hour In Hell by Tad Williams (DAW Hardcover)
The second book in Williams' Bobby Dollar series, which began with The Dirty Streets of Heaven. Basically, if you're jonesing for more gritty urban fantasy about angels and demons, in the vein of Richard Kadrey's Sandman Slim and Vertigo's Lucifer series, then you might want to give this one a shot.
On the Steel Breeze (Poseidon's Children) by Alastair Reynolds (Gollancz)
This is a follow-up to Reynolds' Blue Remembered Earth, but also a stand-alone novel. A thousand years from now, humans are making our way out into the universe in generation ships. A new main character, Chiku, is making the voyage on one of these "Holoships," and there are strange relationships with artificial intelligences — plus lots and lots elephants.
Steelheart by Brandon Sanderson (Delacorte Press)
Sanderson has conquered epic fantasy — and now, he's going to make his mark with superheroes, with this story about a guy seeking revenge for his dead father, against the most powerful superhuman of them all. We ran the book trailer for this recently.