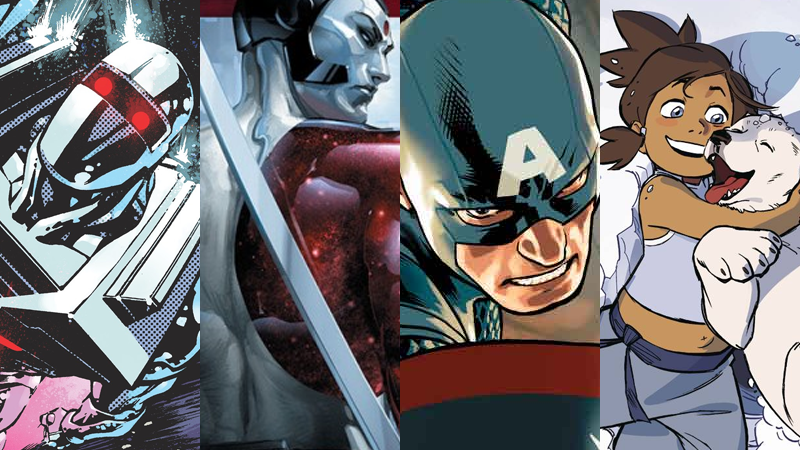 Tomorrow, May 7, is the happiest day of the year for comics fans: Free Comic Book Day, which is both a celebration of the hobby and a chance to read tons of new comics given away without paying a dime! While some are reprints, most contain awesome new material—and here's our guide to the very best of this year's offerings.

Boom! Studios Summer Blast
Boom! has always been famously generous with its Free Comic Book Day offerings, and 2016 is no exception. Summer Blast not only contains previews of upcoming stories from the upcoming Adventure Time comic and Lumberjanes' own summer special, "Don't Axe, Don't Tale" (what a title!), but also brand new original comic short stories set in the worlds of Jim Henson's Labyrinth and David Petersen's Mouse Guard.
If that wasn't enough, also included is a preview of their recent all-ages girl detective series Goldie Vance, and a preview of K.I. Zachopoulos and Vincenzo Balzano's The Cloud, a futuristic fantasy about a young boy and his winged wolf companion. Seriously, Boom! is giving you major bang for your buck—which hey, is already zero bucks.
Civil War II #1
Marvel is bringing its big guns to Free Comic Book Day, offering a special teaser issue for its incoming event series Civil War II. It's not just a preview either, but a whole new story that sets up the future conflict between the heroes of the Marvel Universe—and introduces the new Inhuman that catalyzes the event, Ulysses, who can predict future events. Also included is a bonus story set in the All-New, All-Different Avengers comic that introduces to the world to the mysterious new incarnation of the Wasp.