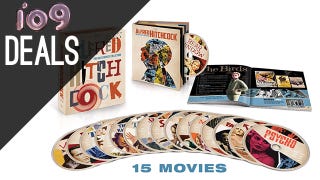 If that deal we recently posted on 5 Hitchcock movies didn't cut it, how about 15? [Hitchcock Masterpiece Collection, $107]
---
We're feeling pretty good about The Witcher III: Wild Hunt being amazing, and even more certain about this edition selling out because well, look at it.
The Witcher III: Wild Hunt Collector's Edition PS4 | One | PC
The regular version of the game is also available for pre-order.
PC gamers who don't want the Collector's Edition and aren't worried about a Steam key can pre-order from GOG to get a discount, with deeper discounts for owners of the first two games.