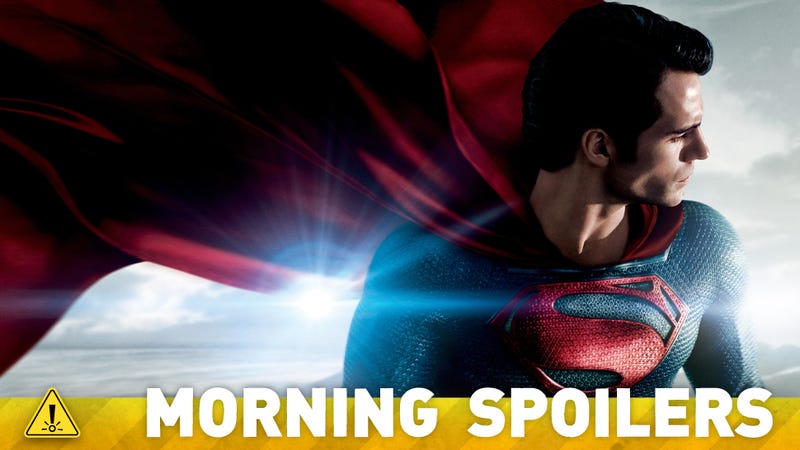 Zack Snyder explains how Frank Miller's Dark Knight Returns will be incorporated into Batman Vs. Superman. Jurassic World will explain why the dino-nightmare keeps happening. Roberto Orci wants to put Ichabod on a plane in season 2 of Sleepy Hollow. Plus first looks at Sif on SHIELD and Rapunzel on Once Upon a Time. Spoilers now!
Top image: Man of Steel.
Terminator Genesis
According to Deadline, the role of Kyle Reese is down to either Jai Courtney (A Good Day to Die Hard) and Boyd Holbrook (The Host). Whoever gets it will be joining of the already-cast Emilia Clarke (Game of Thrones) as Sara Connor and Jason Clarke (Zero Dark Thirty) as John Connor.
Bleeding Cool says this film is rumored to take place over multiple timelines, including a new "meet cute" version of how Kyle met Sarah. Deadline says this film, and the one that follows, will tell the story of the final battle against Skynet. It's also expected to spawn the new TV show, currently in development, which might be another new timeline. [Deadline via Bleeding Cool]
---
Star Wars
Even though we're still getting nothing but rumors, Hitfix cites sources who claim that most of the major casting is done, with many announcements in the pipeline. They've also got sources saying that filming will take place from May to September of this year, giving about a year for post-production work to be done. [Hitfix via Slashfilm]
---
Batman Vs. Superman
When the film was announced, Zack Snyder used a quote from The Dark Knight Returns, and now he's talked a little bit about how the series will influence the movie and how Ben Affleck's Batman fits into the movie: