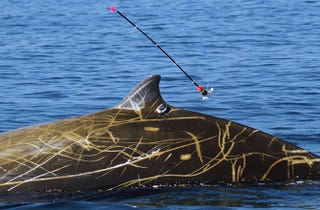 Guess how long it stayed down. Go on, guess. 30 minutes? 60 minutes? 90 minutes? Nope. More. Keep guessing.
Above: An adult male Cuvier's beaked whale, with satellite tag attached to its dorsal fin. Photo Credit: Erin A. Falcone/Cascadia Research.
Humans have been known to hold their breath underwater for over 20 minutes. That's a lot to you and me, but to many of Earth's water-dwelling mammals 20 minutes is a joke, like dunking your head underwater. Take the southern elephant seal for instance — these massive carnivorans routinely hunt squid and fish that live hundreds of meters beneath the ocean surface. Doing so requires them to go incredible lengths of time without air. Their dives have been known to plunge over a mile beneath the waves and last up to 120 minutes long.