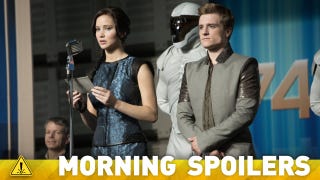 Plus, what's next for David Morrissey's murderous governor? Tatiana Maslany reveals what's ahead in Orphan Black's second season. Captain America is definitely going to have a love interest in Winter Soldier, and the Dinobots are definitely going to be in Transformers 4. Once Upon a Time is only adding about three new Disney stalwarts next season. Spoilers ahoy!
Top image from Catching Fire.
The Avengers: Age of Ultron
That whole "Paul Bettany as J.A.R.V.I.S. is going to become Ultron" rumor is apparently just too good to abandon – even if Marvel has officially cast James Spader in the villainous role instead – so the idea has now resurfaced in marginally modified form: J.A.R.V.I.S. isn't going to evolve into the evil Ultron, but rather the heroic Vision. That, at least, is a straightforward version of one of the latest crazy, entirely speculative theories being floated.
For the non-straightforward, paragraphs-long version of this theory, which ultimately involves Tony Stark dying and merging with J.A.R.V.I.S. to become the Vision, or something, thereby reducing Robert Downey, Jr.'s future participation to strictly voiceover – which admittedly would be a rather ingenious way to keep him around if he really is done playing Tony Stark – check out the link. [Newsarama]
---
Captain America: The Winter Soldier
Speaking with Nylon, co-director Joe Russo says that Sharon Carter, played by Revenge star Emily VanCamp, will indeed have a romantic relationship with Steve Rogers:
"We wanted someone that Cap would have an immediate interest in. It had to be a strong-willed person, and we felt that Emily's work on Revenge was a great test tube for what this character could be. She's obviously very credible with physicality, she holds the screen really well, and she even looks like the character from the books."
---
Catching Fire
Here's the latest poster. [/Film]
---
Transformers 4
Producer Lorenzo di Bonaventura confirms that the Dinobots really will appear in the film: