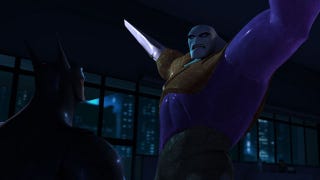 This week in the world of cartoons, we are treated to an unusual Marvel/Disney crossover, an Iron Man appearance on Hulk and the Agents of S.M.A.S.H., and a story of Fry traveling through time on Futurama.
Ultimate Spider-Man is off for a little while to make way for the new Hulk series and Avengers Assemble is a repeat this week. As always - minor spoilers ahead!
---
Beware the Batman – "Toxic"
Rex Mason makes an appearance this week, with Batman trying to stop Mason's imminent transformation into Metamorpho. Will Metamorpho be branded as a hero or villain on Beware the Batman? A Two-Face turn on the character might work well.
---
Futurama – "Game of Tones"
The title might suggest a Game of Thrones-inspired episode - especially considering the GoT intro on The Simpsons from last summer. You won't find the Starks on Futurama this week, but we may have something better, as a series of musical tones sends Fry on a journey to 1999 where he meets his family again.