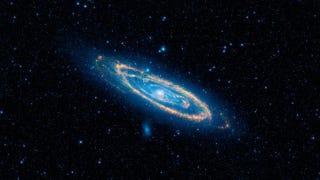 A pioneering infrared scan of 100,000 galaxies by Penn State astronomers has failed to detect any signs of galaxy-spanning extraterrestrial supercivilizations. This result, though very preliminary, may be a sign that aliens aren't capable of conquering entire galaxies.
Above: A false-color image of the mid-infrared emission from the Great Galaxy in Andromeda, as seen by Nasa's WISE space telescope. The G-HAT team used images such as these to search 100,000 nearby galaxies for unusually large amounts of this mid-infrared emission that might arise from alien civilizations. Caption and image credit: NASA/JPL-Caltech/WISE Team/Penn State/Roger L. Griffith et al.
Back in the 1960s, Russian cosmologist Nikolai Kardashev devised the famous scale that now bears his name . He proposed a simple numbering system — from one to three — that can be used to classify hypothetical alien civilizations according to the amount of energy at their disposal. According to the scale, a K1 civ has captured the entire energy output of its home planet, while a K2 civ has tapped into all the power produced by its home star.