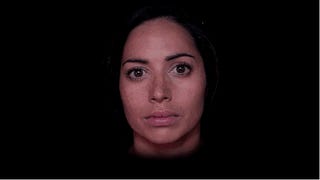 Face paint and stop-motion are combined to beautiful effect in Ruby, a fantastically imaginative portrayal of life, death and rebirth.
London-based artist Emma Allen calls her 75-second short "an animated self-portrait exploring the idea of rebirth and illustrating the transfer of energy from one incarnation to another."
Allen created the animation over the course of five days using face paint, a mirror and a camera. The result is a hauntingly beautiful recapitulation of Carl Sagan's timeless reminder that we are all star stuff, and, more recently, Neil deGrasse Tyson's most astounding fact about the Universe.