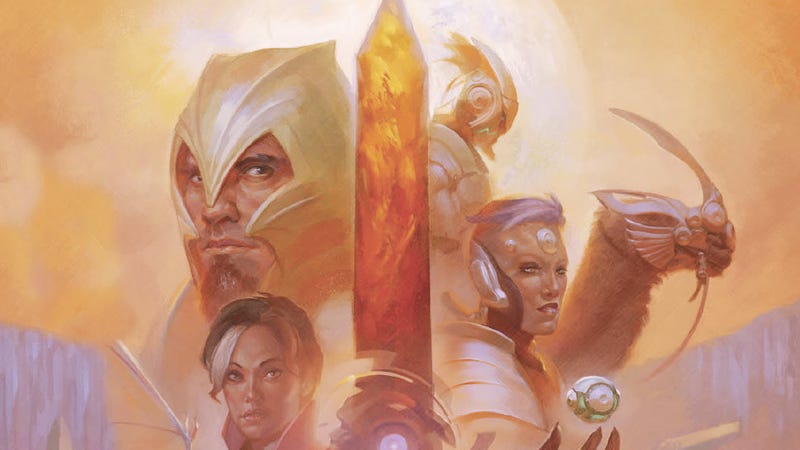 In the far, far future of Earth, the Ninth World is built on the technological bones of countless fallen civilizations. There are mutants, aliens, and stranger things slipping between the dimensions, and the unfathomable tech of ages past looks an awful lot like magic. We talked to designer Monte Cook and editor Shanna Germain about the world of Numenera.
Every year at Gen Con there are a few games that generate a lot of buzz, often selling out within hours. Sometimes it comes as a surprise, but Numenera is the kind of gaming blockbuster you see coming a mile away. The Kickstarter campaign started with a modest goal of $30,000 and ended up raising over half a million dollars. There were long lines to get into all of the Numenera seminars, and they quickly sold out of several Numenera items at their booth.
Numenera uses a brand new rule system that's built to take advantage of the unique setting. Conflict resolution is fairly simple, with fixed damage numbers and a limited amount of modifiers to the basic D20 roll. There are three character classes, but these can be modified by a variety of descriptors to create many different character types. In fact, character concepts are easily created by filling in the sentence, "I'm a blank blank who blanks" — by choosing among the character types, descriptors, and skill focuses. "I'm a mystical nano who talks to machines," for instance.
The world of Numenera is very much a science-fantasy world, where technology is not used primarily to examine the future, but rather to create the weird and bizarre. I'm still wrapping my head around the setting, which is huge and takes up the bulk of the 400-plus page rule book. It presents an interesting contrast to 13th Age, which makes fantasy tropes a strength by codifying them and baking them right into the setting. Numenera's science-fantasy setting becomes a strength because it unshackles the game entirely from fantasy tropes, even though it may in practice play out much like a fantasy RPG. There's no urge to include the enchanted forest full of elves or the cave complex full of barbaric orcs, and if you do, they'll be warped and mutated in some bizarre and probably terrifying way.