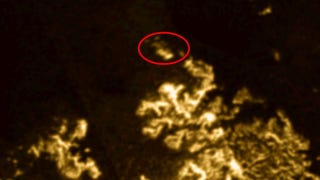 Saturn's largest moon has truly strange geography. Astronomers working on the Cassini mission recently observed the sudden appearance of a bright, mysterious object in one of Titan's northern seas — only to watch it disappear again. Uncertain as to what it is, the researchers offered four explanations.
Last year during a routine flyby, the Cassini spacecraft spotted the feature, which the team members have since dubbed the "magic island." But by the time the probe had returned for a second pass, it was gone.
Before:
After:
The feature appeared in Ligeia Mare, the second-largest sea on Titan. Unlike Earth and its seas of liquid water, Titan's seas are comprised of liquid methane and ethane, and are about the size of our planet's Great Lakes. And like Earth, Titan features a substantial atmosphere (comprised of nitrogen-methane) and a seasonal cycle. In fact, because the moon is currently transitioning from spring into summer (which it will do by 2017), the change of seasons might very well have something to do with it; more of the Sun's energy is being channeled in the northern hemisphere, resulting in dynamic weather and previously unobserved geologic conditions.