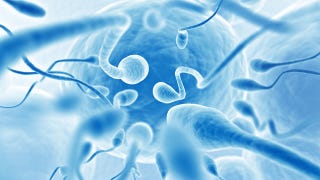 It's the 21st century and men still don't have a birth control pill to call their own. But now, scientists from Britain and Australia have figured out a way to prevent sperm from escaping during the moment of ejaculation — and without affecting sexual function.
To date, most attempts at creating a male birth control pill have focused on the development of sperm or hormonal techniques to produce dysfunctional sperm. Problem is, those approaches tend to create various health problems for men, including reduced libido or permanent alterations to the way the body produces sperm. Worst of all, some methods even cause males to transmit detrimental changes to future offspring.
Related: A male contraceptive that you apply like a lotion and one that doesn't use hormones.