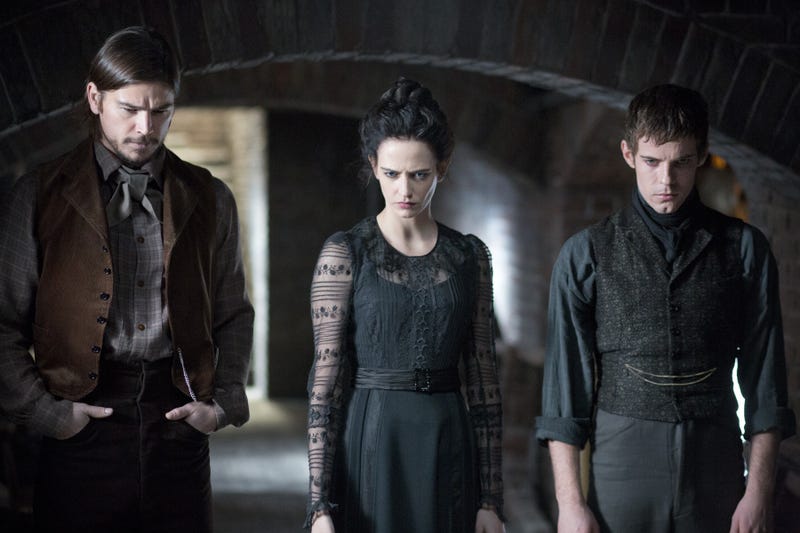 Last week, Penny Dreadful cranked through some very Victorian flashbacks and positioned itself for the second act. This week, things get even more Victorian as everyone goes out to a play and has the worst night ever — except for the people who stayed home, for whom the night was slightly worse.
Spoilers ahead!
This week I finally gave up on trying to screencap every loaded glance, because every glance exchanged in this whole episode was Loaded. Instead, I made a relationship map that will hopefully help keep up with this amazing muddle of desperate feelings only barely subsumed in sniping, staring, or meaningful cut-tos.
Here's where things were as of last week:
Dotted lines indicate where we're unsure of intensity or intent; largely this has to do with Victor, who's so desperate for affection yet so quick to lash out that it's hard to tell if he's petulantly hitting on people or genuinely hateful. (You know the kind.) The dotted line between him and Caliban is only because Caliban might want to kill him more than he wants to make out with him, and so we have to wait for that to play out. It is not because there is not tension:
That's covered. It's covered with pretty much everyone. "Is it subtext? Eh, just make it text." - Penny Dreadful, about everything.
This is right before Caliban tells Victor, with a sort of defiant shame, "My bride must be beautiful." Victor, as soon as he's recovered from the physical proximity, replies, "To match her mate?" Rude. This is why he calls you "demon," Victor. (Also, once again TV has given us someone we're supposed to regard as physically unsettling, when really it's just a guy who needs a haircut and some moisturizer It's all very I, Frankenstein. "I'M A MONSTER!" *abs*)
Victor spends the rest of his subplot trying to drive away as many people as possible, including a visiting hematologist—Doctor Van Helsing, of course, who christens the blood-drinking hematophagy, seems to guess what Malcolm is after, and looks like he wants to hurl Victor out a window mere minutes after having met him.
(Dig that golden microscope. No stone left unturned in Victorian design.)
It reminds me of Caliban's vow to kill Victor's loved ones and how that's probably going to end up being pretty slim pickings, which never fails to make me smile.