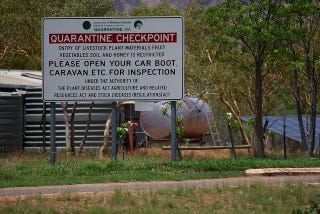 Public health policies can be near-miraculous things. They destroyed polio, and gave us all clean drinking water and strong teeth. But there are occasions when public health policies, when combined with human nature, go terribly wrong. Here are nine of the biggest disasters that resulted.
Photo by Michael Theis
9. Warning That Anti-Depressants May Lead to Suicide
If you've seen any ads for anti-depressants lately, you've probably noticed that many of them include warnings that they may lead to thoughts of suicide, especially in young adults. For unknown reasons, one study showed that people under the age of 25, who took these antidepressants, had suicidal thoughts or exhibited suicidal behavior at twice the rate of those taking a placebo. Companies were required to make this known. Parents found it understandably terrifying, and there a was a major drop in the amount of young people put on antidepressants. Meanwhile, other studies found that these antidepressants either had no increase on the amount of suicide attempts by young people, and, in some populations, a high rate of antidepressant usage corresponded with a lower rate of suicide attempts. Meanwhile, the overall drop in the use of antidepressants corresponded with a small, but significant increase in the number of suicide attempts among younger people.
8. Raising Safety Standards for Virus Labs
This is a particular case that illustrates a general trend. In the late 1970s, an exhaustive campaign of vaccination eliminated smallpox in the wild. By 1978, researchers were nearly certain that it had been eradicated, outside of labs. This turned their attention to the safety standards in those labs that still carried the virus. Health researchers were dismayed to see that many of the labs were casual facilities, where workers wore no protective clothing and where they walked in and out of their labs freely, without any seal on the doors. With no pressing need to create new and better vaccines, the World Health Organization required that, past a certain date, any lab that dealt with the airborne virus have expensive safety features that most of the existing labs did not have. This put researchers in those labs under time pressure to finish their research before they had to destroy their samples. They worked with the virus more extensively, and dropped safety precautions. Because researchers in a lab in Birmingham stopped using fume hoods when they worked on the virus, it got into the air ducts. A photographer who worked upstairs from the lab got infected. She was the last person to die of smallpox. Raise safety standards, and people will try to slip below those standards instead of trying to get over them.