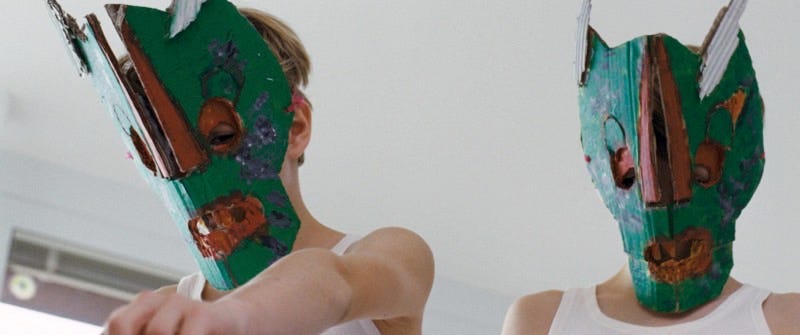 There's a thrill that comes from watching a film made by a director who's at or near the beginning of his or her career and sensing that great things are ahead. Here are some excellent genre films recently made by up-and-comers—and what exciting projects these directors are working on next.

1) The Babadook and The Nightingale
Australian writer-director Jennifer Kent's The Babadook achieved the rare distinction of being critically beloved and disturbing as hell. It's about a mother and son whose already troubled lives take a turn for the worse when the title creature starts tormenting them.
Kent's next project is The Nightingale, a drama inspired by Tasmania's past as both a tough prison colony and a place where indigenous cultures were brutally stomped out ("It's not a horror film, but it's a horrific world," Kent told The Guardian last year.) Kent is also attached to an adaptation of Alexis Coe's true crime tale Alice + Freda Forever: A Murder in Memphis, about two young women whose turn-of-the-century romance came to a cruel end, followed by a sensationally public act of violence. As a side note, and speaking of sensational acts of violence, Babadook star Essie Davis recently had a recurring role as doomed actress Lady Crane on Game of Thrones.

2) Beasts of the Southern Wild and Wendy
Benh Zeitlin's 2012 debut film—a dreamy, quirky fantasy with an environmentalist message—was met with a near-universal swoon, scoring Oscar nods for Best Picture, Best Adapted Screenplay, Best Director, and Best Actress (for nine-year-old Quvenzhané Wallis, the category's youngest-ever nominee). He first shared details of his next project in 2013, telling the New York Times:
The new film is about a young girl who gets kidnapped onto a hidden ecosystem where a tribal war is raging over a form of pollen that breaks the relationship between aging and time. It follows a friendship-love story-adventure of her and a joyous, reckless, pleasure-mongering young boy as they swirl in and out of youth and as the ecosystem around them spirals toward destruction. We're working on it all day every day, but as all psychotic adventures go, you know where your destination is but not how long it's going to take to get there.
If anyone can make that movie, which is now apparently titled Wendy, it's the guy who unleashed ancient aurochs in the Louisiana bayou. In 2015, Indiewire reported that Zeitlin had put out a casting call on the Caribbean island of Antigua; IMDb has the project listed as in "pre-production," with a release date of 2017. Going by Zeitlin's own words, however, there's really no telling how long we'll be waiting for this one.
3) Ex Machina and Annihilation
Though Ex Machina was Alex Garland's directorial debut, the film came after a highly successful screenwriting career (28 Days Later, Sunshine, Never Let Me Go, Dredd), not to mention a best-selling novel, The Beach, which was also adapted into a movie. So the guy was already a huge success beforehand, though the AI tale Ex Machina was so well-done it still felt like an amazing revelation. (Garland received an Oscar nomination for his script, and the film won for its incredible special effects.)
Up next for Garland: Annihilation, his adaptation of Jeff VanderMeer's scifi novel, starringNatalie Portman, Jennifer Jason Leigh, and Ex Machina dancing machine Oscar Isaac. There's no release date yet, but Garland was working on it last spring and summer, according to these stunning behind-the-scenes photos he shared on social media—which only make us even more eager to see the finished product.