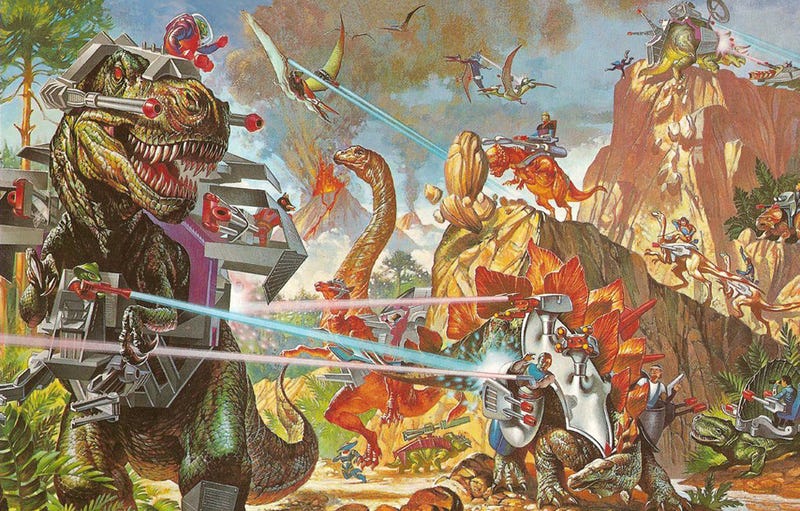 We've all spent a little time obsessing about the end of the world (or maybe a lot of time). But are your apocalyptic thoughts based in reality, or fed by pop culture fantasies? Here are nine myths about how the apocalypse will happen.
Top image: Dino Riders.
1. A large asteroid hit would turn Earth into a ball of flame
It's not unreasonable to worry that Earth might be hit by an asteroid. We're hit by large rocks from space roughly every 20 million years, and the last one struck 65 million years ago — leading to the mass extinction that took out most of the dinosaurs. So we're due for another one. But even a large asteroid strike won't wreathe the planet in fire, cooking everyone. Instead, it would punch a hole in the atmosphere, spreading debris into space and setting off a nuclear winter. Temperatures would plummet, and remain low for at least a decade. Then things would heat up into a super-greenhouse, making things uncomfortable for everyone.
2. Humans are doomed to go extinct
Nope. In fact, humans share many traits with survivor species like sharks, whose ancestors lived through great adversity and several mass extinctions for a few simple reasons. One, they have a large population that can live almost anywhere — just like humans. And they can eat almost anything, including garbage — again, just like humans. It's actually more likely that humans will evolve into a new species than that we will die out. Image: I Am Legend concept art
3. Climate change could cause a mass extinction in the next 100 years
Mass extinctions are the worst disaster that can befall life on Earth, with over 75 percent of species going extinct. And they are almost always caused by climate change. But mass extinctions usually take about a million years — the shortest one is estimated to have taken on the order of 100-200 thousand years. So climate change could make things really horrible in the next century, leading to famines and superstorms. But a mass extinction will take a lot longer than that.
4. Climate change won't really lead to an apocalypse
Actually, it will. Most mass extinctions are caused by climate change. They are often precipitated by disasters like massive outpourings of lava from volcanoes, or an asteroid hitting the planet. But the real damage comes from all the ash, toxins, and carbon that gets loaded into the atmosphere, plunging the planet into an era of superheating or supercooling.
5. Most of the really big threats to humanity can't be predicted
Let's think about a few of the biggest threats to humanity. If you were naming some of the biggest, they would probably include famines, disasters like earthquakes and floods, pandemics, asteroid strikes, and storms can be predicted in advance. We can even predict climate change. So very likely to be wiped out by something we don't see coming. Which means that we can start doing our disaster preparations now, and have a better chance of survival.