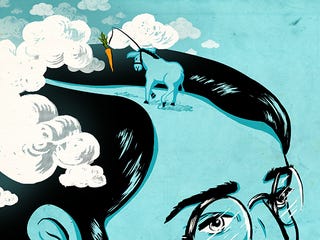 We need science more than ever, yet many people find it hard to get accurate information about the scientific method and its achievements. Making things more difficult, their misconceptions about science are often driven by logical fallacies, or errors in deductive reasoning. Here are eight of the most common anti-science fallacies.
Illustration by Tara Jacoby
We've never been more dependent on science. At the same time, however, we've never been more certain about its ability to help us understand and transform the world. But there are many out there who still distrust science and wish to discredit it at every turn, whether it be anti-vaxxers and climate change denialists, or simply those who wish to preserve their religious or paranormal beliefs.
Trouble is, many of the arguments used to disparage or disprove the findings of science (or even the scientific method itself), are ridden with logical fallacies. Here are eight that fuel anti-science sentiments.
1. False Equivalence
Balanced reporting is important, no question. But that doesn't mean every single perspective on a contentious issue deserves equal air time or consideration. Such is the fallacy of false equivalence, the assertion that there's a logical equivalence between two opposing arguments when there is none.
(AP Photo/The Courier-Journal, Matt Stone)
This is a mistake that's often made when journalists or pundits try to provide a "fair" debate between a scientific and denialist point of view (such as the recent Bill Nye vs Ken Ham evolution/creationism debate). All too often, however, the dissenting side lacks evidence, or presents evidence of poor or dubious quality. Indeed, both sides of an argument are not always equal in terms of quality and evidence.