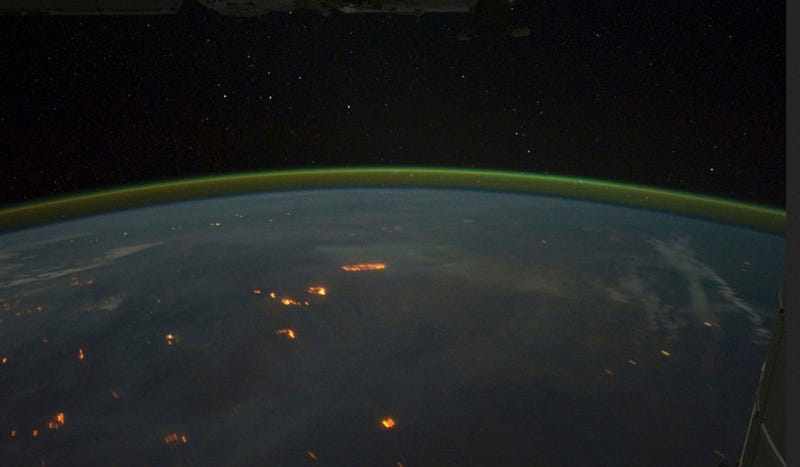 Today, many scientists believe we are on the cusp of a sixth mass extinction which could wipe out most life on Earth as we know it. Here are seven signs that they could be right.
Image of Australian wildfires from space, via NASA
A mass extinction happens when over 75 percent of all species on the planet die in a period of less than two million years. That may sound long to you, but it's the blink of an eye in geologic time. There have been five mass extinctions on Earth over the past 540 million years, sometimes caused by catastrophic disasters, and sometimes by quiet, insidious events like invasive species taking over the planet.
7. Earth Is Bubbling with Super Volcanoes
Yellowstone Park in the United States is actually a volcano caldera, a thin cork of earth that sits on top of a massive cache of broiling magma. And this super-volcano could blow any time. The last time Earth witnessed an explosion of this size was in 1812, when Mount Tambora in Indonesia erupted so profusely that the Earth's climate cooled for several years afterwards. Even more frightening is the prospect that another kind of super volcano, called a large igneous province (LIP), could become active sometime in the future. A now-inactive LIP, called the Siberian Traps, erupted 250 million years ago. It spewed so much sulfur, carbon other greenhouse gases into the air that the Earth experienced a climate change catastrophe, vacillating wildly between extreme heat and cold until 95 percent of all life had died. This mass extinction was so bad it's been nicknamed "the Great Dying" by geologists. Yellowstone is not a LIP, but if it explodes into a super eruption, the damage will be incredible. Super volcanoes are an ever-present threat, that have haunted the Earth for millions of years.