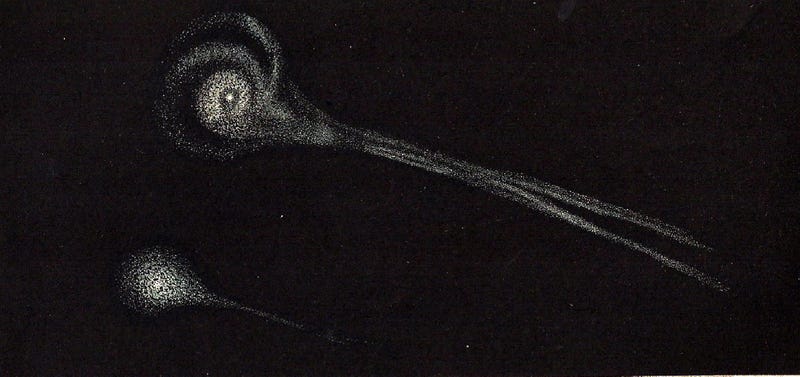 Science fiction is filled with tales that pit humanity against the natural world: earthquakes, meteor strikes, Sharknados. While some of those stories are birthed from abstract (or entirely made-up) fears, others are inspired by specific occurrences—comets, catastrophes, and climate events.
Top image: Biela's Comet via Wikimedia Commons.
The Year Without a Summer: In April 1815, Mount Tambora erupted on the island of Sumbawa, Indonesia. It was the largest volcanic eruption since the Hatepe eruption in AD 180, and it pumped massive amounts of volcanic ash into the atmosphere. It's generally believed that the climate effects of the eruption were the cause of 1816's "Year Without a Summer." Thanks to the global temperature drop, spring and summer in 1816 in the Northern Hemisphere were cold and dreary, causing crops to fail and livestock to die, and triggering massive food shortages.
It's also the year that a group of artistically minded friends gathered on a Swiss holiday, and decided to occupy themselves during the incessant rain by telling scary stories. Famously, this gathering gave us the seeds of Mary Shelley's Frankenstein and a poem by Lord Byron that inspired John William Polidori to write The Vampyre.
One of those works, however, was directly related to the weather. Lord Byron wrote his famous poem "Darkness," recounting a future in which the sun has gone out and humanity is left in permanent darkness. Unlike many of its contemporary apocalyptic works, "Darkness" doesn't end with any kind of divine salvation for humanity; instead, humans lose their faith in God as they perish at last, leaving only the silent darkness of the universe behind.
The Passage of Halley's Comet in 1910: Halley's Comet caused a bit of an apocalyptic uproar during 1910 thanks to the astronomer Camille Flammarion. Flammarion was himself a bit of a science fiction writer, having written, among other works, La Fin du Monde (The End of the World) in 1893. And how does Flammarion imagine humanity might meet its end in his pre-apocalyptic novel? By being struck by a comet. Flammarion must have still had killer comets on the brain when he publicly stated that he believed that the cyanogenic gasses from the tail of Halley's Comet "would impregnate [the Earth's] atmosphere and possibly snuff out all life on the planet." After the New York Times picked up that quote, there was a craze for things like comet pills and comet-shielding gas masks.
Many scholars believe that Flammarion's claim inspired Sir Arthur Conan Doyle's 1913 novella The Poison Belt, which has the Earth passing through a band of toxic ether. But the passage of Halley's Comet certainly inspired the early disaster film The Comet.
Of course, Halley's Comet and the hoopla it attracts have inspired works of fiction for centuries. Back in 1681, after the appearance of Halley's Comet in 1680, Bernard de Fontenelle wrote his play La Comète, ridiculing the superstitious belief that the comet's appearance causes negative effects.
The Passage of Biela's Comet in 1832: We don't hear much about Biela's Comet anymore as it likely disintegrated in 1852, but in the 19th century it caused its own stir. During Biela's 1832 approach, astronomer Heinrich Wilhelm Matthias Olbers calculated that the comet would cross Earth's orbit on October 29th. (Earth, fellow astronomer François Arago noted, would not reach that same point in its orbit until a month later.)
Naturally, the idea of a comet whose path intersected with Earth's captured the public imagination, including that of Russian writer Prince Vladimir Odoevsky. Odoevsky wrote two stories inspired by Biela's Comet, "Two Days in the Life of the Terrestrial Globe" and his unfinished novel The Year 4338: Petersburg Letters. In the former, the approaching comet is the chief topic of conversation at a soirée. In the latter, we tour the futuristic St. Petersburg of 4338 as the world's superpowers try to find a way to save Earth from its impending impact with Biela's Comet.
The Tunguska Event: Now we know that the 1908 explosion that knocked down 80 million trees in Siberia was likely caused by an icy comet or meteorite impact, but for decades, writers of all stripes have been fascinated by the Tunguska mystery. It pops up in Spider Robinson's Callahan's Key, David Brin's Earth, and novels from the Stargate, Star Trek, and Doctor Who universes (not mention numerous comics). But it also features prominently in Stanisław Lem's first science fiction novel, The Astronauts, and Thomas Pynchon's historical novel Against the Day.