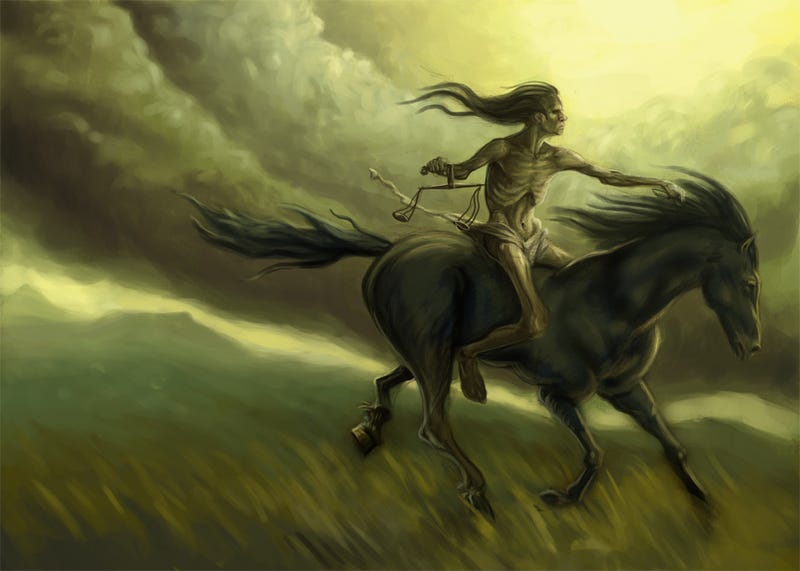 Could this be humanity's last century on the planet? Of course! Here are seven scientifically plausible ways that our species might die out sooner rather than later.
Illustration by Neal Jany
1. Pandemic
There's nothing that a pandemic disease loves more than city life, with lots of life forms squashed into close quarters with each other, hopefully without much sanitation. And the time is ripe for a deadly global pandemic, because half of Homo sapiens lives in cities — plus, we have airline travel, so we can ship the pandemic disease around the globe in less than 24 hours. If the disease is virulent enough, humanity could be wiped out in a matter of months.
What most people forget is that human pandemics may not be the most awful way to go. Pandemic crop diseases can be just as virulent as animal diseases, and they can decimate an entire season's worth of staple foods. Because many farmers buy identical strains of staple crops from Monsanto and other corporations, all their crops would be vulnerable to the same infectious diseases. A pandemic could rip through large parts the world's food supply in just one season. If enough crop pandemics struck, humanity could slowly starve to death, or rip itself apart with food riots.
Photo of cassavas destroyed by mosaic virus, via Global Cassava Partnership
2. Bolide Impact
A bolide is a really large chunk of matter from space, often on fire, that can form a large crater when it smashes into, say, a planet. Often, geologists will describe the event that wiped out the dinosaurs as a "bolide impact." Basically, it's a way of saying "we aren't sure whether that giant thing that smacked into the Earth was a comet or an asteroid, but we know it made a giant crater." There are millions of potential bolides out there, many of them zooming past Earth, and we may not see them coming .