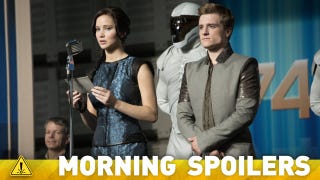 The head of Marvel Studios hints at the direction of The Avengers 2 and why a Doctor Strange movie might happen. Robert Kirkman reveals which character is crucial to The Walking Dead's immediate future. Mark Ruffalo discusses his Hulk future.
All that plus, the latest Catching Fire poster reveals Johanna Mason, Steven Moffat and Jenna-Louie Coleman talk Doctor Who, G.I. Joe: Retaliation has a bunch of new videos, an Arrow guest star reveals her role in Oliver's story, and a Game of Thrones production video takes you behind the scenes!
It's spoilers all the way down!
Top image from Catching Fire.
Star Wars: Episode VII
A lengthy, informative Business Week article on the sale of LucasFilm to Disney suggests that Lucas had a bigger hand than previously reported in actually putting together the current Star Wars creative team and developing the stories for Episodes VII through IX:
Lucas and Kennedy hired screenwriter Michael Arndt, who won an Oscar for Little Miss Sunshine, to begin work on the script for Episode VII. They enlisted Lawrence Kasdan, who wrote the screenplays for The Empire Strikes Back and Return of the Jedi, to act as a consultant. Lucas started talking to members of the original Star Wars cast, such as Mark Hamill, Carrie Fisher, and Harrison Ford, about appearing in the films. In June 2012, he called Iger.

Once Lucas got assurances from Disney in writing about the broad outlines of the deal, he agreed to turn over the treatments — but insisted they could only be read by Iger, Horn, and Kevin Mayer, Disney's executive vice president for corporate strategy. "We promised," says Iger. "We had to sign an agreement."

When Iger finally got a look at the treatments, he was elated. "We thought from a storytelling perspective they had a lot of potential," he says.
Check out the link for more. [Business Week]
---
The Avengers 2
Marvel Studios head honcho Kevin Feige discusses writer-director Joss Whedon's recent comments that the sequel would "go deeper, not bigger":
"I don't know exactly what he meant when he said "deeper". But, similar to Iron Man 3, we're not saying, "Now it's gotta be even bigger and more aliens come and there's a giant monster!" The most exciting thing to us about the Iron Man franchise is Tony Stark and his journey. The most exciting thing to us about the Avengers franchise is the interaction amongst those characters. It's putting them in situations that you wouldn't expect to see them in. It's that kind of fun; and the relationships between the characters in the Avengers, which I loved. Almost whatever the heck else is happening is gravy in that franchise, because all I care about is Bruce and Tony, Tony and Steve, Widow and Bruce – and how Thor fits into it, because he's always the outsider amongst outsiders. So I think that's where the value lies. And going deeper amongst those characters in those relationships."
[SFX via Comic Book Movie]
---
Doctor Strange
From the same interview, isn't yet ready to commit to a Doctor Strange movie, but he does say that if the cinematic universe is going to get into magic, it'll be through the Sorcerer Supreme:
I'm not looking at Phase One as grounded and Phase Two as cosmic and Phase 3 as magic. The films are all so eclectic and different from each other that you can't overarchingly categorize them like that. If and when we enter the magic arena, it will be through Doctor Strange. Sure, obviously. And that's to me what's exciting about Doctor Strange.
There are still some more tidbits at the link. [SFX via Comic Book Movie]
---
Hulk
Bruce Banner actor Mark Ruffalo offered a pair of tweets about the prospects of a new Hulk solo movie:

---
X-Men: Days of Future Past
Young Professor X actor James McAvoy says he's received the script, and it's totally on his to-do list to read the thing:
"The X-Men script? It's in my inbox... I've still got to read it. I'm very excited about it but I've just been doing so much of this (interviews) and working at night (in Macbeth in London's West End) so I'm starting work at 9 and don't finish until midnight so I'm not being flippant... I honestly can't wait to read it and find out what I'm doing but I've just got no time right now."
James Flemyng says he likely won't reprise his X-Men: First Class role Azazel:
"I don't think I will be back. Initially I was gutted, but then, I remembered I had to get up at two in the morning, I had to be painted red and be slightly out of focus and posed a lot, and that was sort of it. Now I don't have to do that. I've had twins so I'm quite glad to stay at home. It's filmed in Canada and it takes about seven months so I'm quite glad to be at home."
---
Catching Fire
Here's one of the latest character posters, featuring our first look at Sucker Punch's Jena Malone as Johanna Mason. Check out more right here. [Coming Soon and /Film]