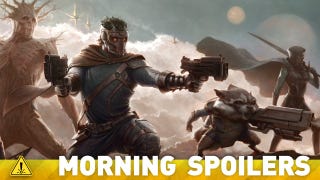 Mila Kunis discusses her starring roles in Oz the Great and Powerful and Jupiter Ascending. Another star joins Wally Pfister's enigmatic Transcendence. Daniel Radcliffe's Frankenstein movie will be unlike any previous Frankenstein film. Plus Walking Dead, True Blood, and more!
It's all spoilers from here on out!
Top image from Guardians of the Galaxy.
Guardians of the Galaxy
Marvel Studios president Kevin Feige reveals the vast, vast majority of James Gunn's cosmic superhero movies will indeed take place in space:
The Thor film and the Guardians Of The Galaxy film certainly are cosmic. Guardians and Thor will take the brunt of the cosmic side of the universe, particularly Guardians, which is 95% in space...

Will Guardians Of The Galaxy prove as integral to Avengers 2 as each Avenger's solo film?
I would say that it does not. It's much more of a standalone film. It takes place in the same universe. And when we've been on the other side of that universe in other movies, you might see those characteristics in Guardians, but the Avengers are not involved with what's happening out there at this time.
[SFX]
---
Captain America: The Winter Soldier
Kevin Feige also talks some more about how the Captain America sequel departs from its predecessor:
Captain America will showcase… What's exciting to me about Cap –- sort of about Iron Man 3 too if you look at it -– is it's tonally almost like a different genre. Shane Black's described Iron Man 3 as a Tom Clancy sort of political thriller, which I like a lot. We hired our directors on Cap because they loved our explanation that we really want to make a '70s political thriller masquerading as a big superhero movie. Just like with the first film -– we got Joe Johnston because we said, 'We want to do a '40s World War Two movie masquerading as a big superhero movie.' I love that we're doing a sequel to a film that's a completely different genre than the first film. I think that's fun. And the comics do it all the time."
[SFX]
---
X-Men: Days of Future Past
Bryan Singer has now confirmed yesterday's casting news:

---
The Amazing Spider-Man 2
Director Marc Webb tweeted this latest photo from the set.

You can also check out some additional behind-the-scenes photos from the filming in Chinatown right here.