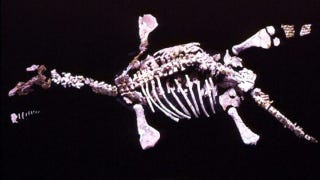 Finding complete fossils of dinosaurs and amphibians is a difficult task, with museums and universities spending millions of dollars to reconstruct and acquire these ancient specimens.
One of the more interesting fossil discoveries in the past few decades — Eric the Pliosaur — features a a number of unique qualities. During the fossilization process, opalisation occurred, leaving the fossil with a semi-precious sheen. This is not the most interesting aspect of the fossil, however, as that may very well be the tale of the its discovery, reconstruction, and ownership changes that rescued the fossil from being made into jewelry and found it a permanent home within an Australian museum.
Discovering an Opal-Covered Fossil
In 1987, a miner working in the opal-rich town of Coober Pedy, Australia, stumbled across the opal-covered fossil of a pliosaur within a mine. The lucky miner attempted to excavate the seven-foot, opalised fossil himself, destroying several fragile pieces in the process.